The Ace of Cups Tarot
What is the Ace of Cups Tarot
The Ace of Cups is a card that belongs to the third suit (Cups) of the fifty-six cards called Minor Arcana in a traditional seventy-eight tarot card deck. Used for both playing and divination, its suit element is water.
How is the Ace of Cups Depicted in the Tarot Card
A white hand, radiating rays, is projecting from a cloud holding a gold W-engraved cup on its palm. From the cup, five streams of water flow out into a sea overfilled with lotus blossoms.
A dove with a small communion wafer in its beak can be seen above the mouth of the cup.
Meaning of Ace of Cups in the Tarot Card
The Ace of Cups symbolizes emotional and spiritual fulfillment, the arrival of opportunities, and uncontrollable happiness. The hand is a sign of spiritual consciousness and positive influence while the cloud represents some form of divine energy. The rays suggest following the heart to get answers about the self.
The lotus blossoms mean the revival of human spirit, abundant pleasure, and growth.
The dove is an embodiment of peace and love that will take over the material world.
The Ace of Cups as a Person (Significator)
A spiritual and self-connected person, the Ace of Cups is filled with love and emotion. Such people are good decision-makers based on their strong instincts. Companionship with them will help you from within and give ultimate joy.
As Feelings
It refers to the cocktail of emotions you are going through thinking about someone, ranging from nervousness and sadness to love and happiness.
As Action/Advise
Try to get in touch with your inner consciousness to understand the true meaning of love. This way you will be able to discover the other aspects of life for a new beginning.
The Ace of Cups Tarot Card Meaning: Upright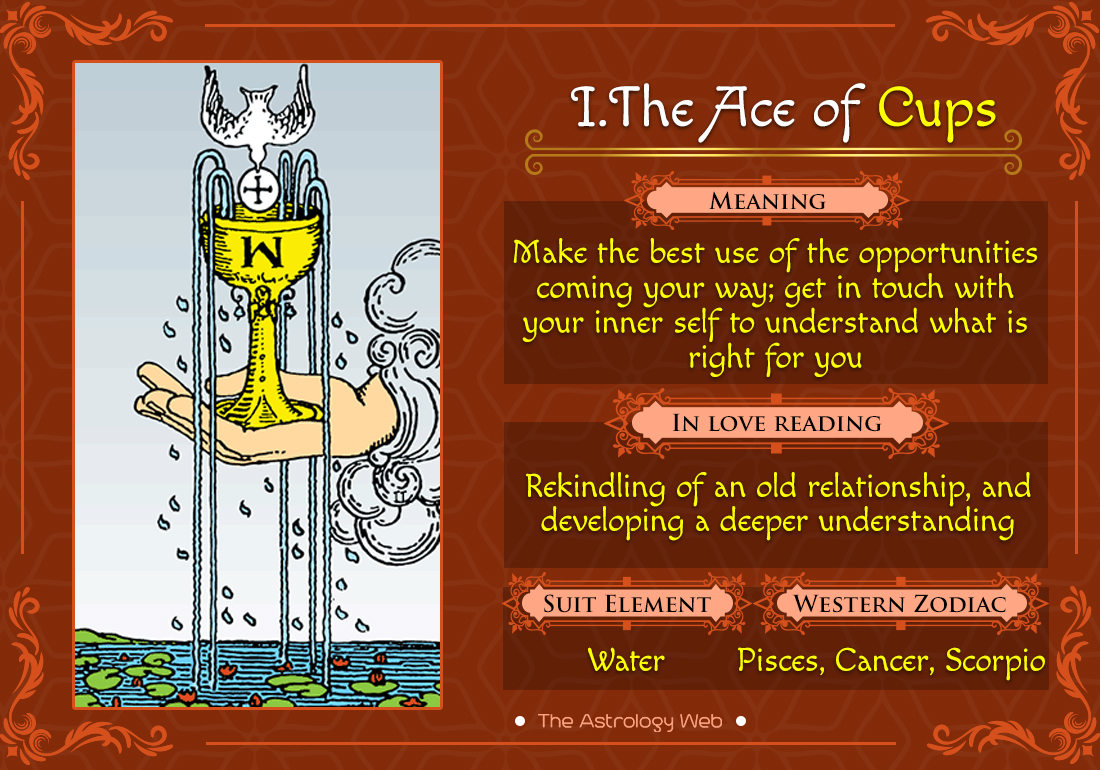 Keywords: Feeling complete, compassion, strong intuition, creativity, forgiveness
Interpretation: In the card, the offering of a cup indicates the opportunities you are getting now to fulfill your dreams and goals. This is a period to receive unconditional love from close ones. Also, it could mean that you are getting a chance to creatively express yourself.
Generosity and kindness are the key components to gain emotional satisfaction. This is a period to give not take from others as you have the power to induce happiness in anyone's life.
In Love and Relationship Reading
Keywords: Finding a soulmate, deeper understanding, renewal of an old relationship
Interpretation: If you are in a relationship, it will grow stronger as there will be a deeper connection with your partner. Both of you would experience a surge of emotions that will have a positive impact on your congenial life.
Those who are singles will find a true lover who will touch their souls.
Ace of Cups Tarot Reading in Other Situations
Career and Work: You will be flooded with a plethora of promising career opportunities. At your workplace, you will feel more balanced and enthusiastic to work harder.
Finance and Business: Your financial condition will improve during this period that could mean approval or payment of a loan.
Health: If you have been feeling low lately, the appearance of the card will bring you good news. You will feel highly energetic and active, recovering from your other health issues.
The Ace of Cups Tarot Card Meaning: Reversed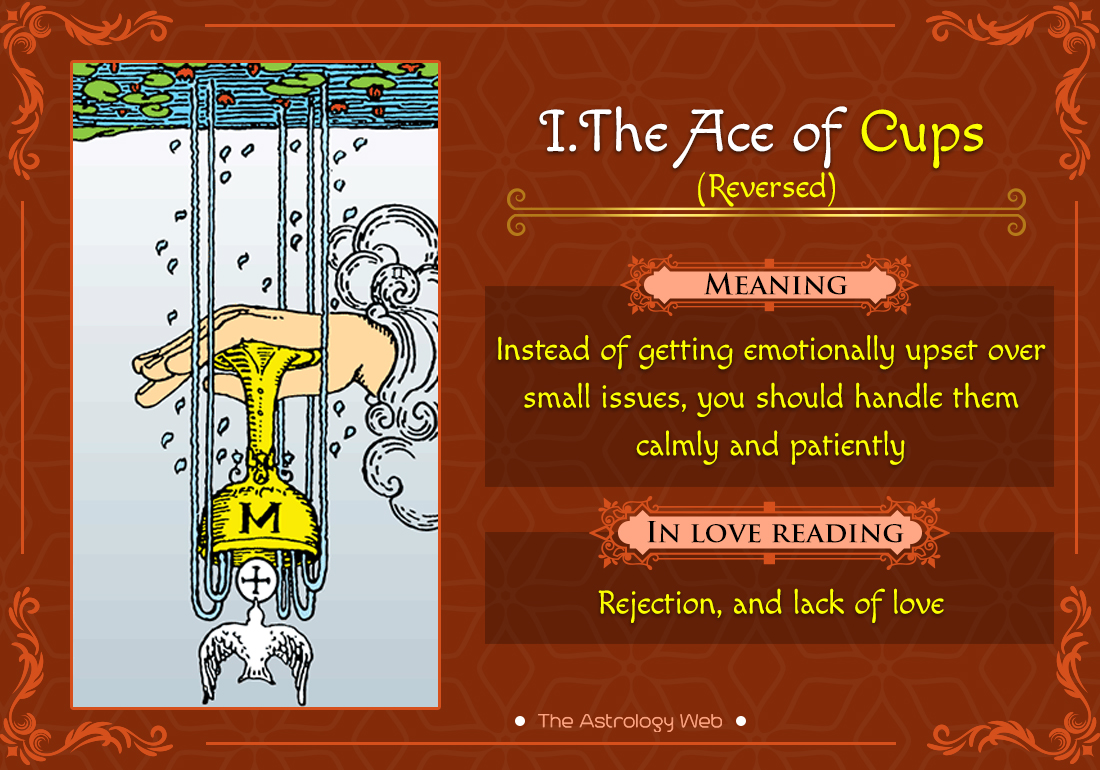 Keywords: Suppressed emotions, hatred, anger, guilt, resentment
Interpretation: In the upside-down position, it implies difficulty in controlling your feelings as you may find it hard to hold back your tears at the drop of a hat. Alternatively, it could mean that you have bottled up your feelings for a long, and now letting them out would be advisable.
It is high time you look after your emotional well-being as life has its share of ups and downs. Keep a watch on your reactions and responses to any situation, event, or person.
In Love and Relationship Reading
Keywords: Unrequited love, loneliness, lack of care
Interpretation: Having unrealistic expectations for your better-half would lead to heartbreak and disappointment. Pour your heart out as repressing your emotions will increase the gap in your relationship.
Ace of Cups Tarot Reversed Reading in Other Situations
Career and Work: Lack of motivation and guidance at work is giving you dissatisfaction. You have not received any positive news in relation to your promotion or selection at a job interview.
Finance and Business: You have to be careful with your money as the reversed Ace of Cups suggests a rough financial phase.
Health: You are running out of energy due to lack of expression of emotions. Let it out rather than building stress and ruining your overall health.
The Ace of Cups in Different Positions in a Tarot Spread
Past: Although an end of a past relationship has left a deep scar in your heart, you have become emotionally strong. As you have seen the worse, it does no longer take time to get adapted to a new situation.
Present: The path you have chosen for yourself is giving you emotional security, satisfaction, and contentment. Right now, everything is working in your favor.
Future: You are visualizing perfect love as your ultimate goal in the future. However, setting high standards may make you feel worthless as every coin has two sides.
Connect with The Astrology Web
Get the latest Updates and tips delivered right to your inbox.
Get started