The Ace of Swords Tarot
What is the Ace of Swords Tarot
The Ace of Swords is a card that belongs to the fourth suit (Swords) of the fifty-six cards called Minor Arcana in a traditional seventy-eight tarot card deck. It is used for both playing and divination and its suit element is air.
How is the Ace of Swords Depicted in the Tarot Card
Under a gray and cloudy sky, a radiating white hand appears from a thick, feathery dark cloud on the left.
The hand is seen holding a large, double-edged silver sword pointing in the upward direction. Over the tip is a gold crown decked with laurel leaf and dropping palm.
Below the hand is a rugged mountainous landscape.
Meaning Ace of Swords in the Tarot Card
The Ace of Swords symbolizes great power to conquer something impossible without causing any destruction. The hand and the dark cloud embody divinity and spiritual effects.
The sword held in the upright position stands for intelligence and decisiveness while the crown signifies mental clarity. The laurel leaf represents victory while the dropping palm refers to sacrifice.
The barren mountainous landscape signifies earthy influence.
The Ace of Swords As a Person (Significator)
It represents a clever and brilliant person who has many innovative ideas in the head. Such people love to get indulged in activities involving the mind. Any issue will be dealt with by them with a great sense of reasoning. A person who is competitive and a risk taker, playing a vital role in your life could the Ace of Swords.
As Feelings
Your feelings are connected to your intellectual thinking, thereby making you more emotionally strong.
As Action/Advise
Your mental energy is sufficient to help in making a fresh start with new thoughts and beliefs. Even though you at times bang your head against the wall, you need to realize your ideas can bring a drastic change.
The Ace of Swords Tarot Card Meaning: Upright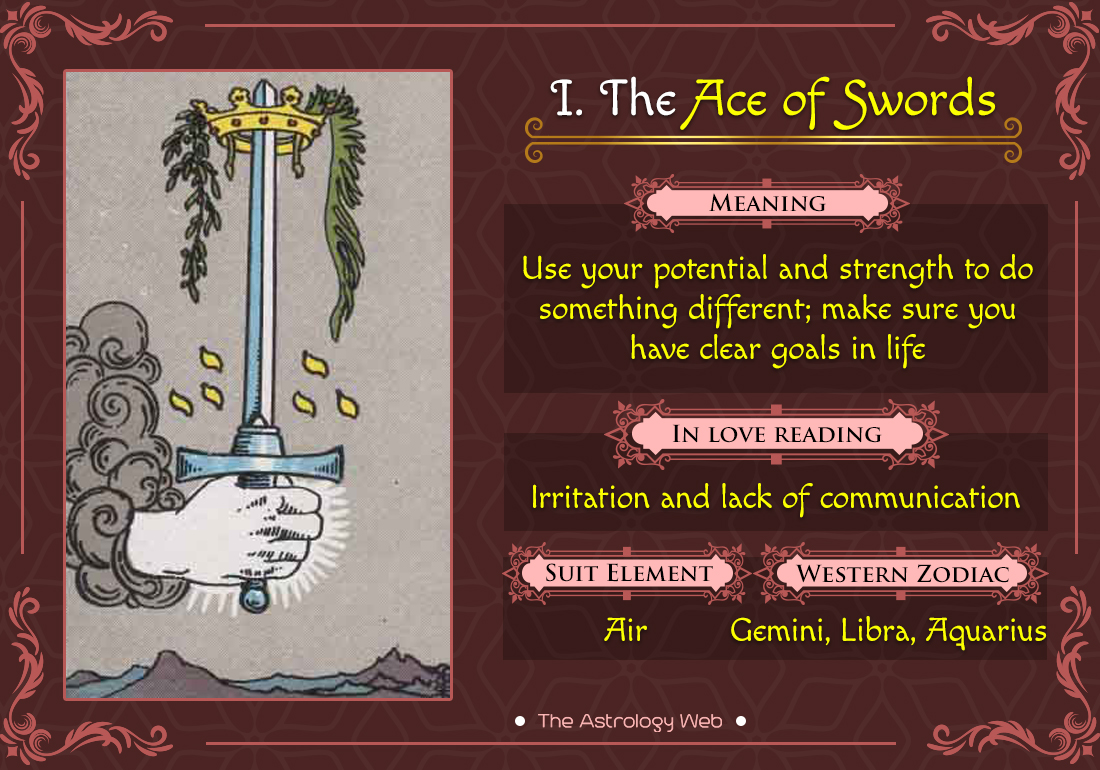 Keywords: Unutilized power, mental focus, victory, justice, honesty, intellect, taking correct decisions
Interpretation: In this position, the card indicates that you have immense potential and strength to get what you want. However, you are not sure whether it will be utilized properly and give the desired success.
The card advises you to set clear goals in your life and accomplish them. Use your mind to do something out-of-the-box.
In Love and Relationship Reading
Keywords: Difficulty communicating, frustration
Interpretation: If you are committed, you might have trouble with your partner over petty issues. The less exchange of dialogues could be the main reason behind your daily squabbles, causing irritation.
Those who are single can only find true love if they are honest and open about themselves.
Ace of Swords Tarot Reading in Other Situations
Career and Work: At your workplace, you might be feeling more energetic to take up new projects, finish deadlines, and handle major responsibilities. New ideas coming into your head would be shared with other colleagues to accomplish a successful venture.
Finance and Business: Don't mix business with emotions since the card indicates deceit from partners and friends. Avoid lending loans without signing a proper legal contract to avoid a loss.
Health: If you have been binging lately, change your habit and switch to healthy eating. Also, go for regular health checkups if you have been suspecting something unusual in your body.
The Ace of Swords Tarot Card Meaning: Reversed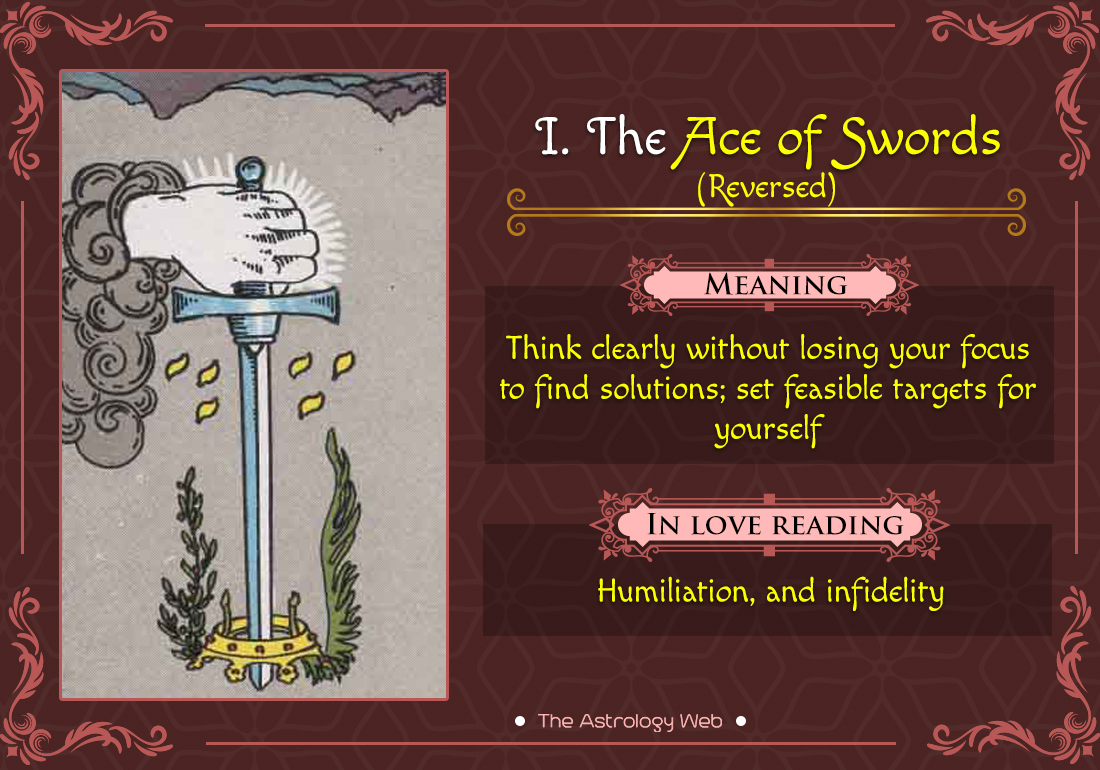 Keywords: Shrouded thoughts, confusion, disorganization, memory loss
Interpretation: In the upside-down position, it indicates that your goals and aspirations are not well-defined due to lack of mental clarity. You may have a high-level of understanding, but formulating a plan and working on it could appear to be more challenging.
It would be advisable to search for the missing links that could be affecting your basic level of thinking. Once you understand the problems, a better plan can be charted out.
In Love and Relationship Reading
Keywords: Cheating, arguments, insults
Interpretation: No matter how much you try disturbance will arise in your relationship from time to time. Unless you and your partner mellow down and listen to one another, there cannot be any further talks.
Ace of Swords Tarot Reversed Reading in Other Situations
Career and Work: Despite bagging a new job or promotion at work, you are not finding it mentally stimulating. Since you are experiencing creative blocks, switch to something better offering greater challenges.
Finance and Business: Whether you are signing a business contract or checking an investment, without a proper verification or professional consultation it should not be done.
Health: Don't follow many health regimes in an attempt to stay fit and fine. You can focus on meditation and relaxation techniques to lessen your stress.
The Ace of Swords in Different Positions in a Tarot Spread
Past: There might be instances in the past where you planned in advance and acted timely. You are well aware of the fact that conducting a thorough research will yield you better results. Therefore, it has led to you here.
Present: Your desperation to change a situation can result in a vehement outcome. It is more important to control your actions rather than your emotions.
Future: In this position, the card suggests a potential growth and success, making your future life happy. However, stop rushing and contribute your time in gathering information.
Connect with The Astrology Web
Get the latest Updates and tips delivered right to your inbox.
Get started