The Page of Wands Tarot
What is the Page of Wands Tarot
The Page of Wands is a card that belongs to the first suit (Wands) of the fifty-six cards called Minor Arcana in a traditional seventy-eight tarot card deck, used for playing and divination. Its suit element is fire, and court element is earth.
How is the Page of Wands Depicted in the Tarot Card
A young man wearing yellow attire having salamander designs is seen standing alone on a barren landscape. He holds a wooden staff upwards that is few inches taller, looking at it with some confidence. He also dons a bowler hat embellished with a feather.
Meaning of Page of Wands in the Tarot Card
The Page of Wands refers to a passionate approach towards life with zeal to accomplish a particular task. The young man is an expression of dreams and desires. The salamander designs on his dress symbolize change and fierceness.
The staff represents spiritual and social progress in a materialistic world.
The Page of Wands As a Person (Significator)
A passionate and energetic person defines the Page of Wands who is a risk-taker. Such people are talented and creative, drawing anyone's attention. Large-hearted as well, they would try their best to lift the mood of their friends or family member. You will never get bored with them.
As Feelings
You will feel brave and strong, trying to understand the true meaning of your existence. Your enthusiasm and impatience may turn you into an attention-seeker.
As Action/Advise
Since this is an expression card, it advises you to be more vocal about your feelings and unfulfilled desires. Don't let minute issues bother you when there are better opportunities ahead.
The Page of Wands Tarot Card Meaning: Upright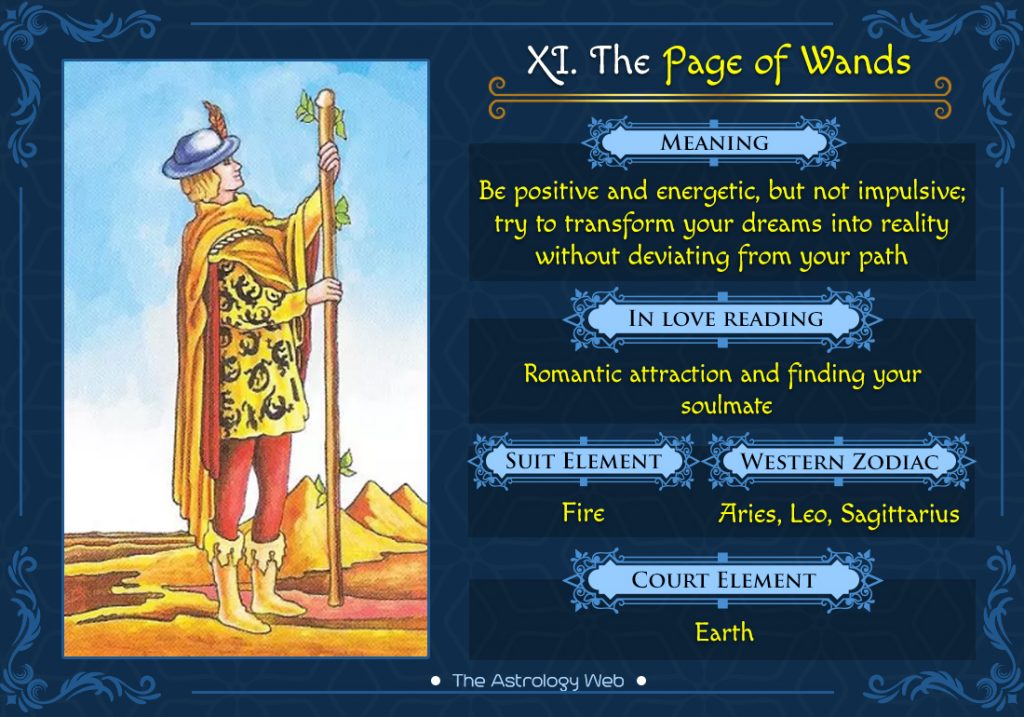 Keywords: Determination, discovery, analysis, unorthodox, adventurous, unconventional
Interpretation: In this position, it means that you want to play the role of an inspiring figure, attempting to bring fresh changes through unconventional means. Since there are too many creative thoughts in your mind, you are experiencing restlessness.
Your eagerness to enter a new phase in life with a clear vision is justifiable, but don't get too overexcited and impatient. You should maintain a balance so that all your dreams and desires are materialized. Also, keep a watch on your spontaneous behavior otherwise you would make a fool of yourself.
In Love and Relationship Reading
Keywords: Fulfilled romance, finding new love
Interpretation: Those who are in a relationship will find a new energy in discovering each other. You may spend more time together with your partner going on romantic candlelight dinners and surprise vacations.
The ones who are single may find their special someone. However, the relationship may not be a long-lasting one, but it would teach some important lessons in life.
Page of Wands Tarot Reading in Other Situations
Career and Work: You might be enjoying your current job position with a lot of enthusiasm. There would be more possibilities at your workplace to rise and shine. If you have recently given an interview or awaiting a promotion, expect some sportive news.
Finance and Business: You will be a gainer, getting huge returns from your recent investments. You can try other ventures as well, but avoid keeping all the eggs in one nest.
Health: All you need is some energy boost to get started with a healthy regime. The more you work out, the better you will feel about yourself.
If the card is picked during pregnancy, it ensures the birth of a healthy baby.
The Page of Wands Tarot Card Meaning: Reversed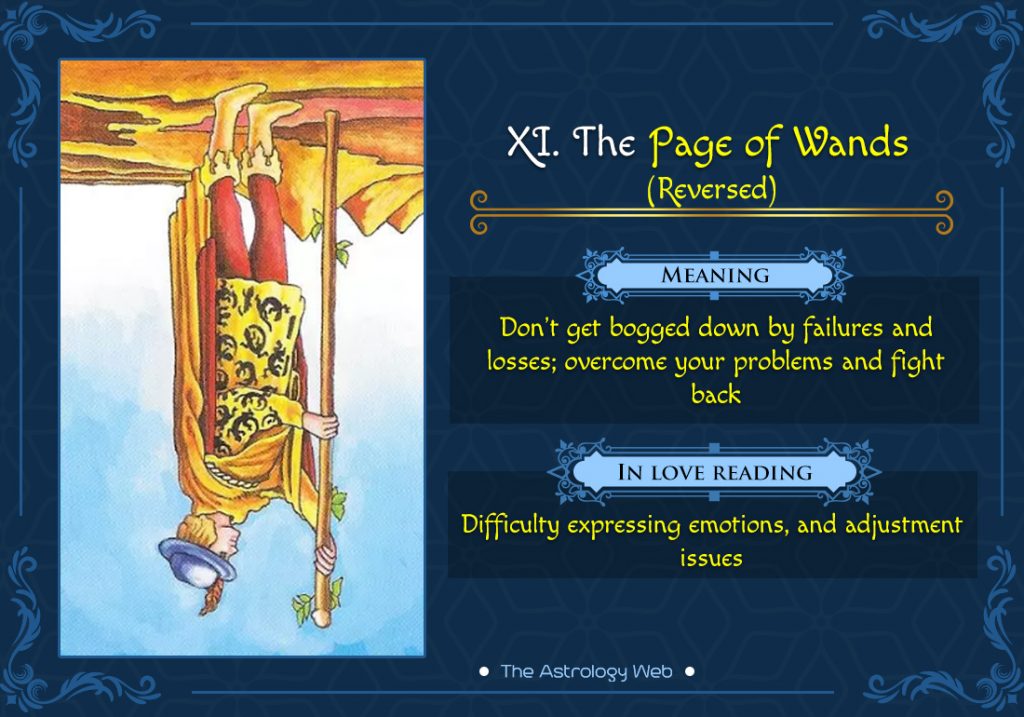 Keywords: Aimlessness, setbacks, pessimism, procrastination, a difference of opinion
Interpretation: In the upside-down position, the card indicates that your lack of focus has made you enter into the wrong avenues, resulting in unexpected failures. As you are unable to accept the situation, you continue taking the wrong decisions.
The Page of Wands suggests you do not get negatively affected by losses, obstacles, and criticism, and start again from scratch without losing hope.
In Love and Relationship Reading
Keywords: Difficulty compromising, lack of communication
Interpretation: Couples may have a hard time vocalizing their emotions to each other, making it more uncomfortable to live under the same roof. It would be advisable to reciprocate your feelings and thoughts clearly if you want to stay together.
Page of Wands Tarot Reverse Reading in Other Situations
Career and Work: You might come across a dominating and vindictive person in your office who is responsible for breaking your confidence. Unless you speak up and defend yourself, the mental harassment will continue.
Finance and Business: You might be getting any good financial news if the card shows up. Maybe you had been too confident about your investments that ultimately did not turn fruitful.
Health: Some past illness has pulled down your energy levels to such an extent that you no longer feel like doing anything to improve your health. Try getting back into activities gradually to fight back.
The Page of Wands in Different Positions in a Tarot Spread
Past: There was someone in your past life whose youthful nature has affected you in a positive way. You might be happy accomplishing a task that was being tried for a long time.
Present: If you are eagerly waiting to begin something new, the card in the present position is affirmative about your efforts.
Future: You will soon be starting a new chapter in your life that may prove to be even better than your current one.
Connect with The Astrology Web
Get the latest Updates and tips delivered right to your inbox.
Get started