The Queen of Pentacles Tarot
What is the Queen of Pentacles Tarot
The Queen of Pentacles is a card that belongs to the second suit (Pentacles) of the fifty-six cards called Minor Arcana in a traditional seventy-eight tarot card deck. Used for both playing and divination, its suit element is earth and court element is water.
How is the Queen of Pentacles Depicted in the Tarot Card
Under a golden sky, a woman representing the Queen is sitting on a throne with carvings of goats, rabbits, kittens, angels, fruits, and other materialistic items, and holding a golden pentacle in a motherly way. She is wearing a reddish gown over a white under-gown. She is covered in a green cloak that's secured by her golden throne studded with a winged solar disk on the top.
There is an arch of roses above her throne while the ground below her feet can be seen covered with flowers and different types of plants.
At the right-hand side of the throne, a rabbit can be spotted in some bushes, ready to take a leap.
The background comprises of a range of icy mountains and a blue flowing river.
Meaning of Queen of Pentacles in the Tarot Card
The Queen of Pentacles represents a warm, loving, and dutiful motherly figure, playing the role of a financial provider as well. Her reddish gown illustrates enthusiasm and passion while the white under-gown is a depiction of purity. The green cloak symbolizes a connection with nature whereas the winged solar disk on the crown suggests earthy joy. The carvings on the throne stand for material and sensual pleasure while the golden pentacle stands for material possession and satisfaction.
The flowers and plants signify protection, natural abundance, and beauty.
The rabbit is a symbol of fertility, optimism, and strong judgment.
The mountains and the river embody intellect, intuition, and passion.
The Queen of Pentacles As a Person (Significator)
It represents a practical, friendly, and affectionate person who works really hard to keep her family happy and secure. She is an expert in multitasking, following all the conventional norms of the society without any disappointment. In her presence, you will have no dearth of love, care, and help in your life.
As Feelings
You are feeling more drawn to your home and family, displaying a loving and caring nature. There is a desire to be surrounded by people, animals and other elements of nature to experience the real existence on earth.
As Action/Advise
Follow a practical approach when it comes to handling multiple responsibilities. Make the best use of your resources to ensure a long-term security and create a good future.
The Queen of Pentacles Tarot Card Meaning: Upright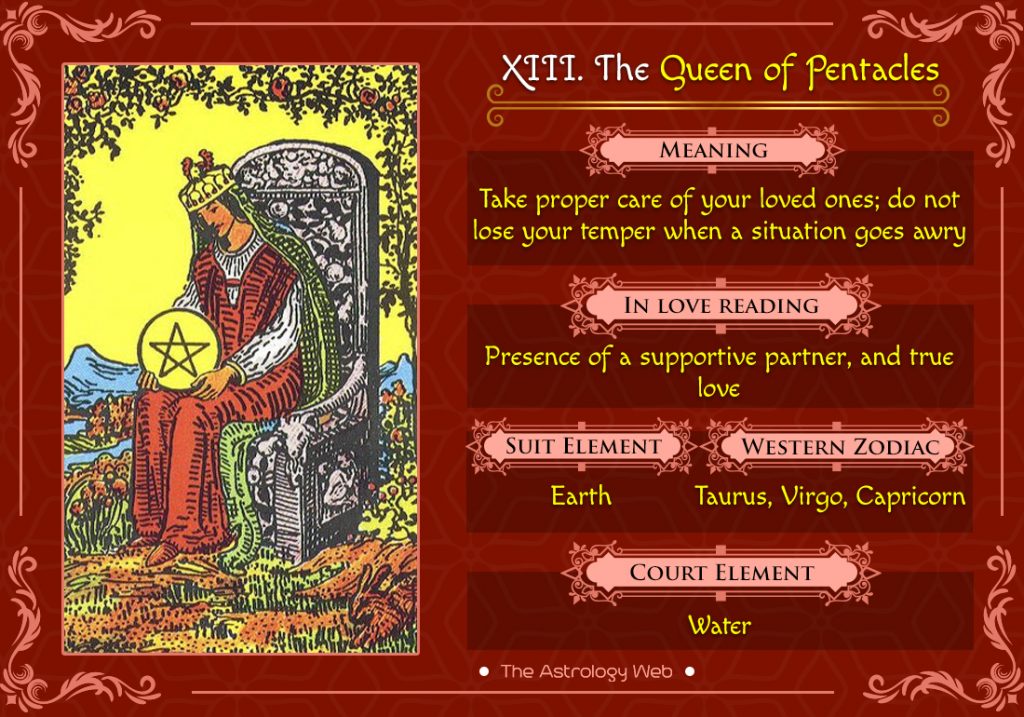 Keywords: Vitality, love, modesty, docile, realistic, compassionate, hardworking, nature-lover, feminine qualities, social butterfly
Interpretation: It indicates that you are extremely caring and obedient towards your near and dear ones, providing them with love, financial security, and proper advice. You are working quite hard to build a secured home where all your family members can stay in peace and harmony. In fact, you have acquired the ability to be calm and composed in adverse situations.
Though you are rightfully attending to all your commitments, it's important to make some time for yourself and focus on individual needs. Also, be careful with your personal wealth instead of blindly trusting anyone.
In Love and Relationship Reading
Keywords: Appreciation, true love, support
Interpretation: If you are committed, it means that you have a loyal and generous partner who will stick to you through thick and thin. Your relationship is in the best phase now and hence you need to make the most of it by spending more time together.
Those who are single are probably looking for a stable relationship where love will play a prime role.
Queen of Pentacles Tarot Reading in Other Situations
Career and Work: At your workplace, you will be successful due to your confidence, good oratory skills, and diligence.
Finance and Business: You are more likely to enjoy a luxurious life with a regular money flow. However, you be frugal while handling all your financial dealings.
Health: The best way to maintain a healthy lifestyle is by eating well and exercising on a regular basis. Practice some relaxation techniques if required.
The Queen of Pentacles Tarot Card Meaning: Reversed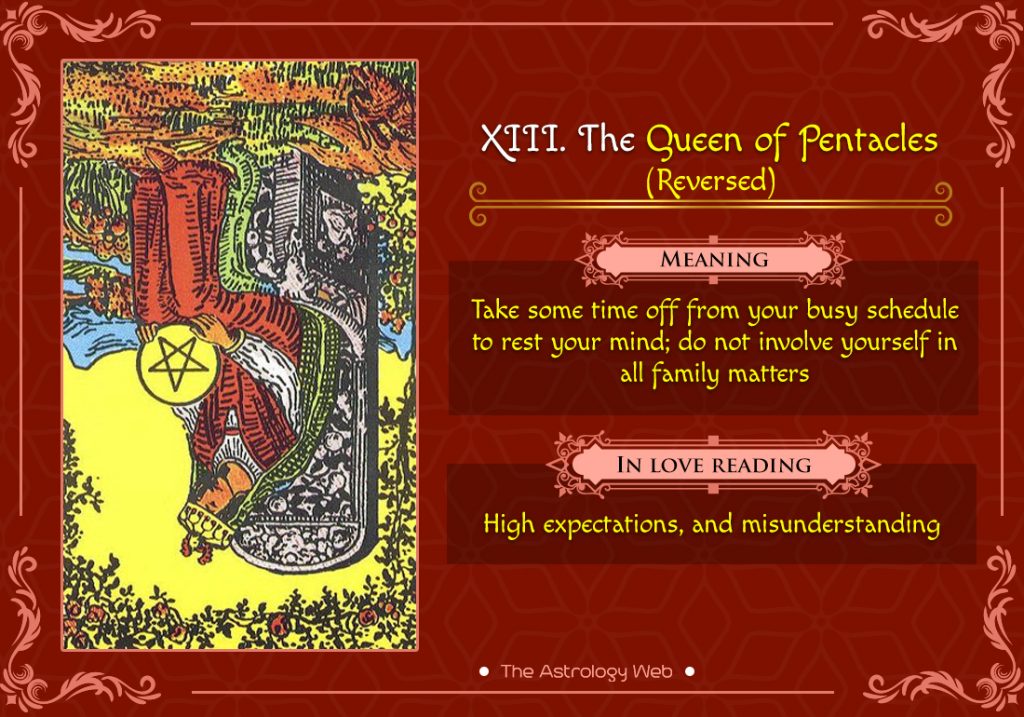 Keywords: Tarnished image, unfriendly ambiance, work-life imbalance, disorganization, jealousy, self-centeredness
Interpretation: When the card appears in the upside-down position, it indicates that you are giving too much importance to your work and ignoring your family life. In an attempt to gain financial independence, you don't feel confident enough to maintain personal ties due to work commitment. Alternatively, it could also mean that you are holding yourself accountable for all the household-related tasks without letting others take the burden.
As per the suggestion of the card, it would be better if you take a break from work and dwell in a natural setting to get a fresh breath of air and bring back a balance in your life. Also, stop being too docile and raise your voice if you are feeling suffocated staying and working at home.
In Love and Relationship Reading
Keywords: Lack of commitment, insecurity, possessiveness
Interpretation: There would some trouble in the paradise as either you or your partner will expect the other to do take all the responsibilities. This way there will be arguments, fights, and misunderstandings severing the relationship.
Queen of Pentacles Tarot Reversed Reading in Other Situations
Career and Work: You can witness disorganization at your workplace due to lack of cooperation from coworkers. Pull up your socks and get ready to show your potential to others.
Finance and Business: The card indicates a potential financial loss resulting in dependency on others. You have to consult a good financial guide to resolve the issues.
Health: Your health might not be in a good shape due to extreme negligence. Prioritise your day-to-day tasks to give some attention to your overall well-being.
The Queen of Pentacles in Different Positions in a Tarot Spread
Past: You had a cheerful childhood that was filled with love and care. Hence, the lessons learned have made a huge impact, molding you into a strong individual.
Present: In the present position, the card indicates that you have the right mood, energy, and willingness to settle down in life.
Future: After years of toiling, you will be enjoying a peaceful and stress-free life in the future, helping others as well. You will also remain free from any worry or tension.
Connect with The Astrology Web
Get the latest Updates and tips delivered right to your inbox.
Get started