The Queen of Wands Tarot
What is the Queen of Wands Tarot
The Queen of Wands is a card that belongs to the first suit (Wands) of the fifty-six cards called Minor Arcana in a traditional seventy-eight tarot card deck, used for playing and divination. Its suit element is fire, and court element is water.
How is the Queen of Wands Depicted in the Tarot Card
Below a clear blue sky, the Queen wearing a golden crown sits on a throne, holding a blossoming wood stick in her right hand and a fresh bouquet of sunflowers in the left one. She dons a light gray cape and a golden yellow robe.
While the sides of the throne are adorned with lions facing in the opposite directions, the back has symbols of the same lions and sunflowers.
A black cat is sitting motionless at the feet of the Queen.
Meaning of Queen of Wands in the Tarot Card
The Queen of Wands is a representation of feminine energy that comes with loyalty, strength, and independence. The Queen in the Tarot signifies the element of Fire. While the wand stands for the beginning of life, the sunflowers are a symbol of fertility, satisfaction, and happiness.
The lions are an embodiment of fire, energy, and vigor.
The black cat signifies occult power and magic.
The Queen of Wands As a Person (Significator)
A classy, smart, and intelligent person represents the Queen of Wands. She is artistic with a plethora of ideas in her mind that can be properly executed into actions. In your life, she could be a delightful person with a mysterious inner self, not ready to be revealed to the world.
As Feelings
You might be feeling quite ambitious and fearless with zeal to take up any challenge coming your way.
As Action/Advise
You have to feed your creative pangs by doing something out of the box. Try to infuse life into yourself and give wings to your imagination.
The Queen of Wands Tarot Card Meaning: Upright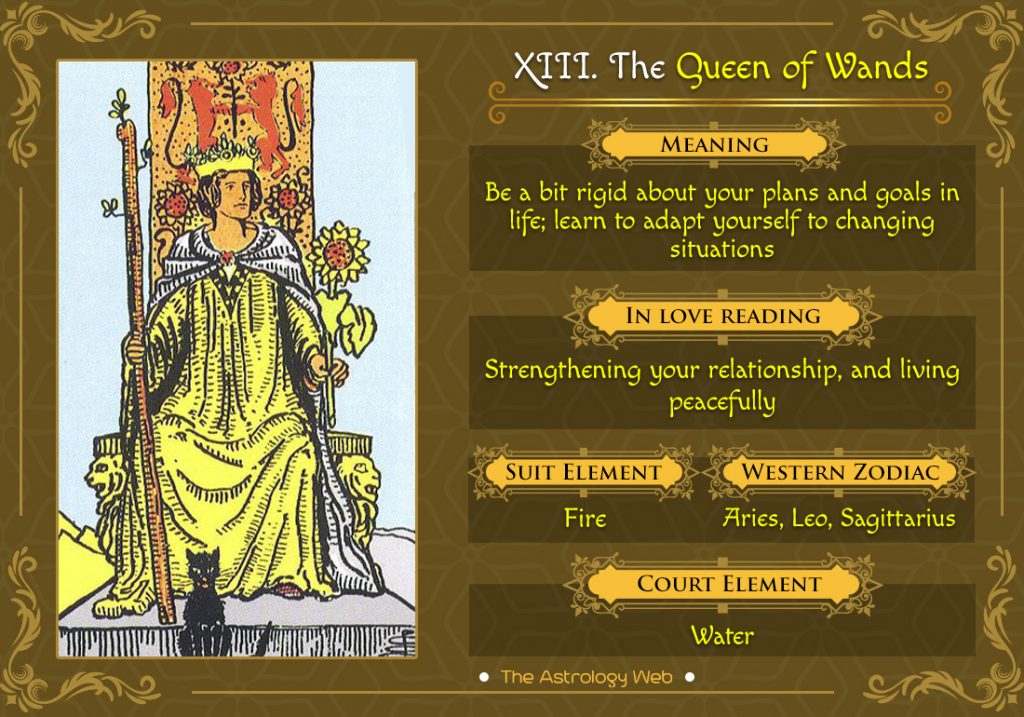 Keywords: Independence, warmth, goal-oriented, support, cheerfulness, passionate, determination
Interpretation: In this position, it indicates that you are fiercely determined to achieve your goals, inspiring others around you to stay optimistic and enthusiastic without losing hope. You brim with energy, creatively expressing your passions and feelings.
The card advises you to stay bold and consistent about your plans, allowing yourself to be a bit flexible as everything might not work even when desired.
In Love and Relationship Reading
Keywords: Strong bonding, sharing emotions
Interpretation: Those who are couples might feel comfortable forming an emotional bonding, sharing each other's deep-seated feelings. Despite having different personalities, you both will be able to live in peace.
If you are single, there won't be any dearth of admirers. All you have to do is go out and meet like-minded people.
Queen of Wands Tarot Reading in Other Situations
Career and Work: You are juggling between multiple projects quite well, earning appreciation and respect from the superiors. Try taking up a managerial role as you have abundant energy to take control of people efficiently.
Finance and Business: You are logically thinking about the different schemes as well as business ventures that might give a good return. Decisions are taken correctly now in terms of budget maintenance and cost-cutting.
Health: Your healthy lifestyle is having a positive impact on your physical and mental well-being. In fact, you are running high on energy.
During pregnancy, the appearance of the card is considered positive, suggesting you to stop worrying.
The Queen of Wands Tarot Card Meaning: Reversed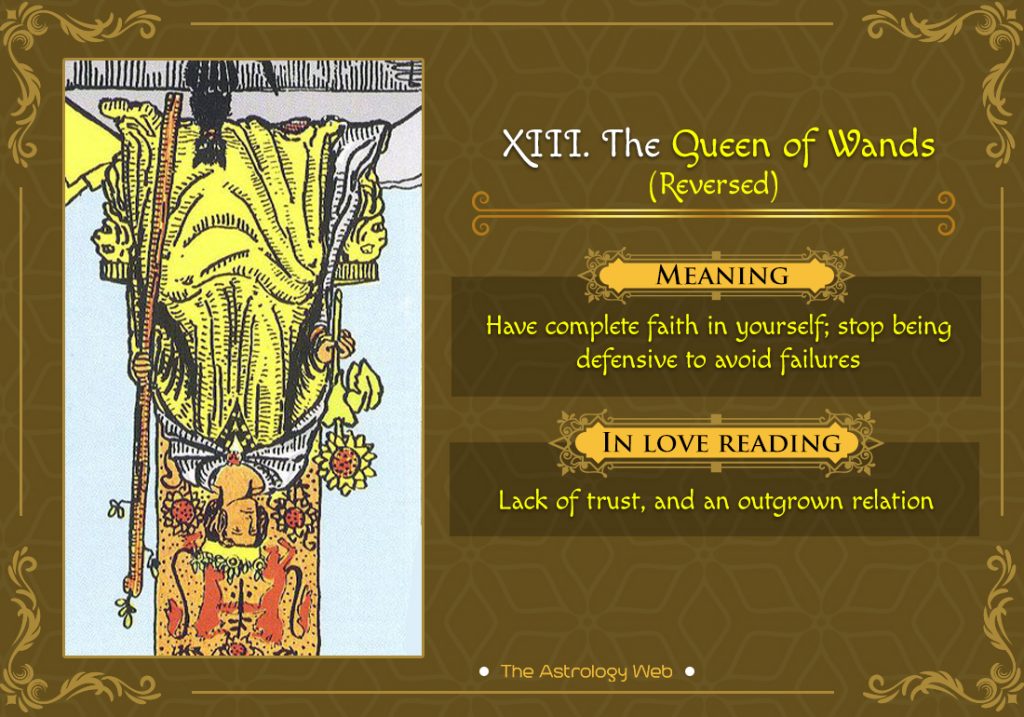 Keywords: Vengeance, envy, aggressiveness, extreme shyness
Interpretation: In the upside-down position, the outcome of the reading could mean that you are having mood management issues, unable to hide your resentful and rude behavior from others. You have lost your confidence, and hence trying to be defensive and shrewd whenever someone questions you.
The card suggests you restore your self-belief even if you have failed to live up to your expectations. There is nothing to feel embarrassed about losing since anything can be tackled with an open mind.
In Love and Relationship Reading
Keywords: Unfaithfulness, insecurity
Interpretation: You may have frequent squabbles with your partner over petty issues. The loyalty factor might be missing in your relationship as both of you may no longer feel drawn towards each other.
Queen of Wands Tarot Reversed Reading in Other Situations
Career and Work: Knowingly, you have taken too many tasks at one time that have to be completed within the speculated time. However, now you are feeling pessimistic and irritable about your conduct, giving excuses for the lack of efficiency. The card advises you to become a bit organized before taking any decision.
Finance and Business: Your expenditure has become uncontrollable with no savings. The money is not maintained well and wasted in useless activities and items. Keep a tight budget, or else you will be heading towards a significant loss.
Health: The Queen of Wands indicates poor health and lack of energy due to excessive worry. Maybe you are sulking thinking your failures, indirectly affecting your health.
The Queen of Wands in Different Positions in a Tarot Spread
Past: Your past life might have been a smooth ride with lots of love showered on you by your family members. Maybe there was a maternal figure in your life who was so career-driven that she influenced you to be the same now.
Present: Your personal and professional life is taking a good shape. You will feel less stressed due to the constant flow of money and energy without hindrance. Also, a female figure in the form of your friend, mother, or relative may give you some useful; advise.
Future: The coming years promise comfort, opportunities, and new collaborations to keep you pinned to your goals.
Connect with The Astrology Web
Get the latest Updates and tips delivered right to your inbox.
Get started