The Six of Swords Tarot (6 of Swords)
What is the Six of Swords Tarot
The Six of Swords is a card that belongs to the fourth suit (Swords) of the fifty-six cards called Minor Arcana in a traditional seventy-eight tarot card deck. Used for both playing and divination, its suit element is air.
How is the Six of Swords Depicted in the Tarot Card
The Six of Swords represents a woman and small child sitting on a boat that is being steered across a water body by a ferryman towards a distant landscape. The woman's head is covered while the child wears a robe.
On the right side of the boat, the water is turbulent, while on the left its' calm and still.
The six swords are planted into the boat in the upright position.
Meaning of Six of Swords in the Tarot Card
The 6 of Swords signifies an unintentional transition that would help in moving towards a promising future. The cover on the woman's head symbolizes a feeling of loss or sadness as a result of leaving something behind.
The boat symbolizes going somewhere, probably from a huge turmoil towards something more peaceful.
While the turbulent side of the waters indicates the inner conflicts of the mind, the calmer part stands for freedom and liberty.
The six swords are stresses upon the need to have a rational and intuitive thinking instead of getting emotional.
The Six of Swords As a Person (Significator)
As a person, the 6 of Swords refers to a person with excellent problem-solving skills and intelligenge. He always tries to implement new strategies and ideas into action while remaining impartial and patient. In your life, he might be someone who achieves his personal goals at any cost as well as loves to acquire new skills.
As Feelings
A tendency to leave the old beliefs and routine life behind and start something new is what the Seeker may likely feel now. You would feel like traveling places, meeting new people, and rediscovering yourself.
As Action/Advise
If you are struggling with some problem, try seeking help from others to get some feasible solutions. Also, a quick physical move soon is predicted by the card.
The Six of Swords Tarot Card Meaning: Upright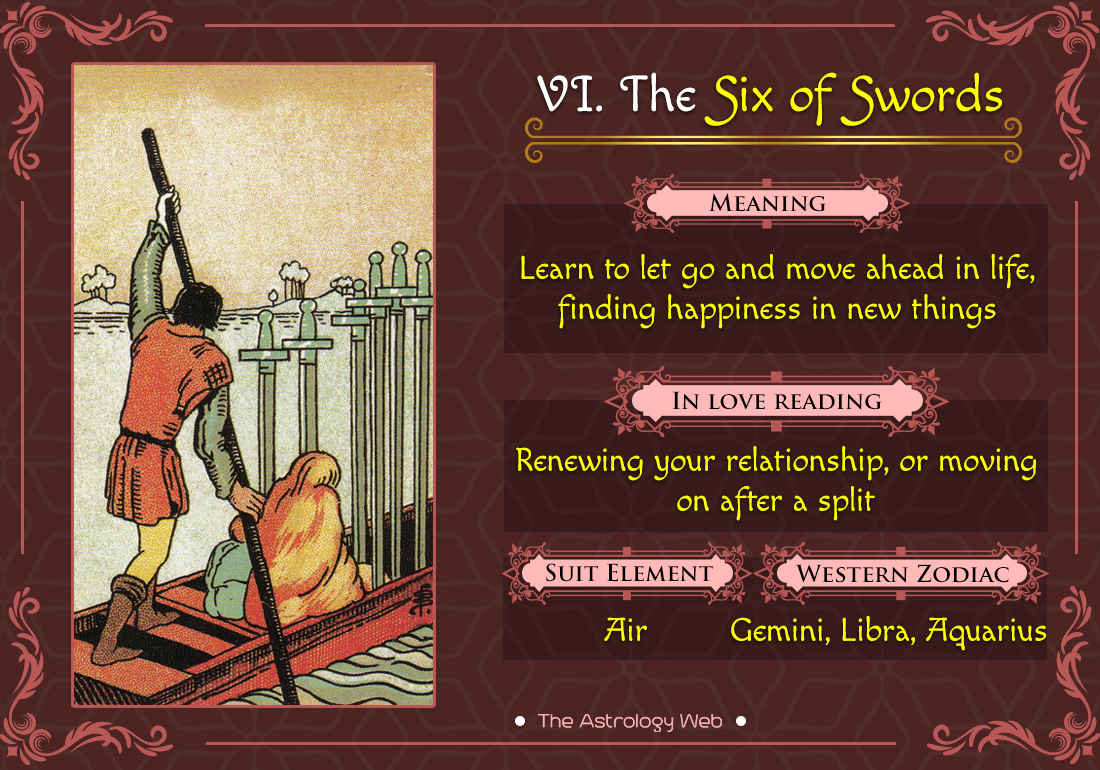 Keywords:  Seeking solutions, moving places, following the right direction, a need to change
Interpretation: In the upright position, the card indicates that you might have to leave something behind with a heavy heart and move forward in life. You might be compelled to let go of something, feeling regretful, but in the long-term, your hard efforts will be well paid-off.
If you want to reach somewhere, going through a difficult transition would be tough but fruitful. Moreover, with a strong logical reasoning and mental clarity, you will be able to chart a new course that will lead to happiness and joy.
In Love and Relationship
Keywords: Moving on after a breakup, bringing new changes in a relationship
Interpretation: If you are committed, try to renew your relationship in a different way by going to quiet dinner dates, long vacation, or spending quality time at home.
Those who have broken up with their partners will not take much time to bounce back and move on.
Those who are singles should expand their mental bandwidth by going to new places and socializing with different people.
Six of Swords Tarot Reading in Other Situations
Career and Work: Any disturbing situation created earlier at your workplace would be calming down, giving you a better control over your work. You may either relocate to a new place or a job, fulfilling your career goals.
Finance and Business: Slowly, you are able to overcome hardships to improve your financial situation. Although you might not have a humungous flow of money, there won't be any loss or fallout.
Health: You might be feeling better physically and mentally due to a change in your day-today routine. Take an off from work to lower your stress levels.
The Six of Swords Tarot Card Meaning: Reversed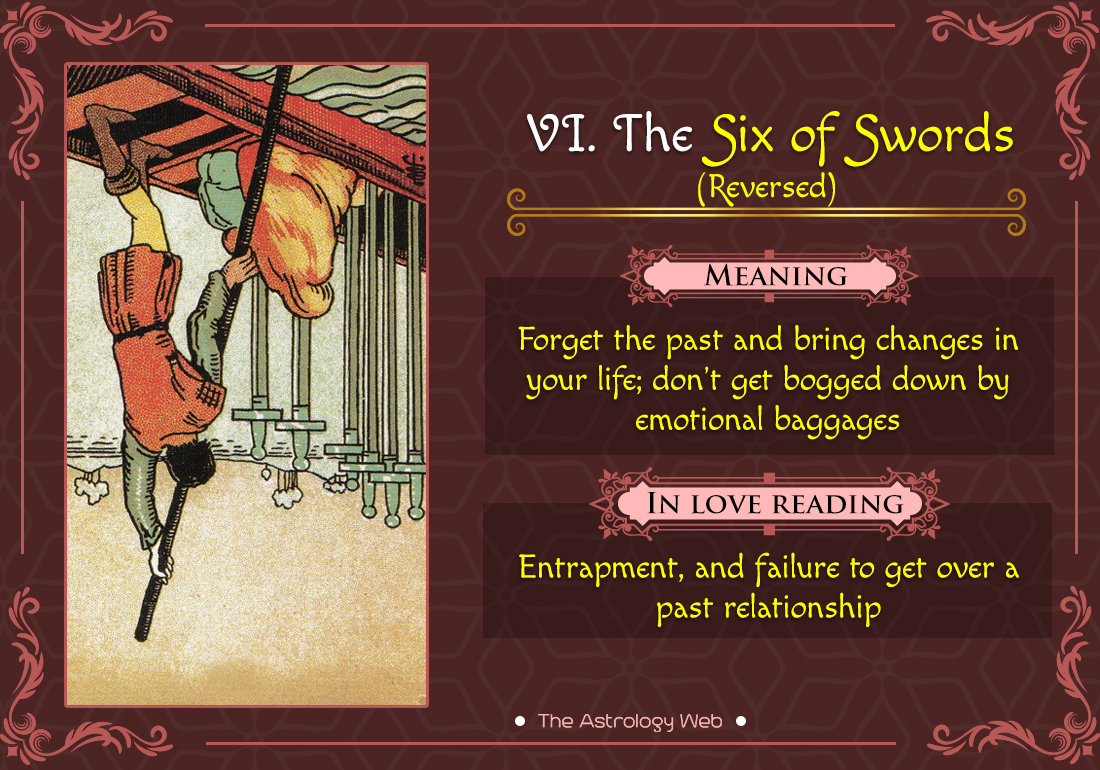 Keywords: Misinformation, mental wariness, carrying emotional baggage
Interpretation: In the upside position, it means that you are experiencing some challenges while trying to switch to newer territories in your life. There might be some unsorted issues, pulling you back to the past, affecting your ability to take the right decisions.
As per the reversed 6 of swords' reading, you have to make a strong attempt to undergo a transition despite the obstacles. If you could do so, your future life will be brimming with greater opportunities.
In Love and Relationship Reading
Keywords: Difficulty moving on, feeling trapped in a relationship
Interpretation: You and your partner might be going through a rough phase due to which your relationship is getting affected. Watch out for a third person who might be responsible for causing trouble in your paradise.
Six of Swords Tarot Reversed Reading in Other Situations
Career and Work: On the career front, you might experience a delay in your work progress such an impending promotion or a hike in your pay. If you had a row with your colleague at work, try to patch up soon otherwise he/she may create some problem in the future.
Finance and Business: No matter what monetary troubles you are facing right now, running away would not be a solution. Take the matters in your hands by taking some professional help.
Health: If you are on the path of recovery from an illness, be ready to face few more setbacks as the reversed card indicates a delay. However, a quick change in your routine life will make things progress faster.
The Six of Swords in Different Positions in a Tarot Spread
Past: Since you have been truthful and honest about yourself, a major hurdle has been crossed successfully. A clear understanding has shaped a better future life for you.
Present: The challenges and obstacles you are facing right now might be a boon in disguise. Don't be surprised when you find out a new path towards progress.
Future: The Six of Swords is a card of reassurance in this position. It says that no matter what problems lie ahead in the future your strong conviction will lead to a win-win situation.
Connect with The Astrology Web
Get the latest Updates and tips delivered right to your inbox.
Get started