The Ten of Pentacles Tarot (10 of Pentacles Tarot)
What is the Ten of Pentacles Tarot
The Ten of Pentacles is a card that belongs to the second suit (Pentacles) of the fifty-six cards called Minor Arcana in a traditional seventy-eight tarot card deck. Used for both playing and divination, its suit element is earth.
How is the Ten of Pentacles Depicted in the Tarot Card
An old and wise man covered with long white hair on his head is sitting outside an archway in the middle of a busy town. He wears a royal cloak designed with images of crescent moons, grapevines, and other rich symbols. He is seen surrounded by his family comprising of a young cheerful couple, and a little boy. There are two white dogs standing near his feet, one of them being caressed on its head by him.
The pillars of the archway are inscribed with the coat of arms symbols.
Behind the young couple, there are tall buildings and the shrubbery of the town square.
Ten pentacles are superimposed on the card in different positions.
Meaning of Ten of Pentacles in the Tarot Card
The 10 of Pentacles is a representation of accomplishment, satisfaction, and the end of a journey. The old man is an embodiment of fulfillment and retreat. The symbols on his robe are all the elements of experience, learning, and wisdom. The young couple and the child stand for a family while the two dogs symbolize friends.
The designs on the archway imply peace, harmony, and blessings.
The ten pentacles refer to security and protection.
The Ten of Pentacles As a Person (Significator)
It represents someone who is the backbone of his family, group of friends, and office. Wise and mature, he is connected well with near and dear ones. His dedication and hard work in the past have given happiness to his family. Therefore, he is showered with love and respect.
As Feelings
You are feeling loved and safe due to the caring nature of your close ones. In fact, you always want to stay attached to a close-knit family sharing all your happiness.
As Action/Advise
The card indicates that family comes first no matter what priorities you have set for yourself. You have to lend a helping hand to the elder members of your family, making them comfortable and secure.
The Ten of Pentacles Tarot Card Meaning: Upright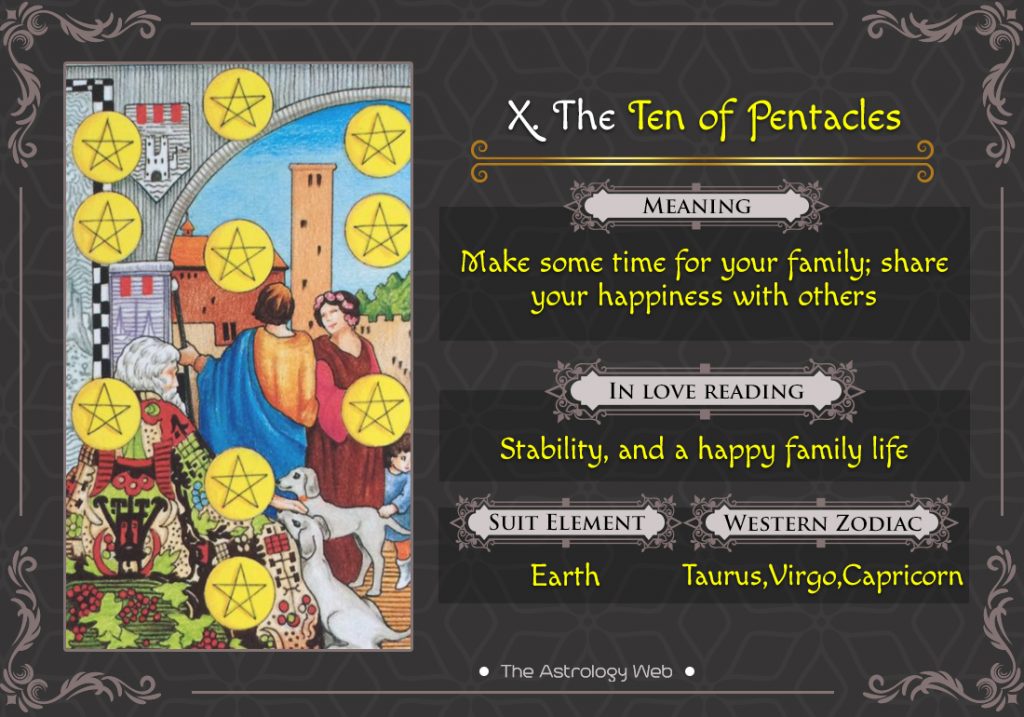 Keywords: Retirement, security, tranquility, family-oriented, inheritance, strong establishment, legacy
Interpretation: It could mean that you are soon going to reach a culmination point, marking your accomplishment after a long-struggling journey. After facing a lot of challenges and tribulations, you will taste success, bringing happiness to your home and loved ones.
If you have been feeling a bit lost, the card suggests you prioritize your tasks and concentrate on family affairs. Don't worry about material abundance as you will get it in plenty.
In Love and Relationship Reading
Keywords: Long-term commitment, stable home, traditional family setup
Interpretation: If you are in a relationship, there will be domestic happiness and harmony at home with lots of celebrations ahead. It could also be the ideal time for engagement, marriage, or birth of a baby.
Those who are single can expect the blossoming of a new romance that will culminate into a long-term relationship.
Ten of Pentacles Tarot Reading in Other Situations
Career and Work: Either your position at the office or your business will take a huge leap, giving you immense success. Your job will remain stable and secure for a long time without causing any hassle.
Finance and Business: You may get abundant wealth either from your earlier investments or inheritance.
Health: You are unlikely to face any major health issues since the upright card suggests stability and longevity. However, get regularly checked to be on the safer side.
The Ten of Pentacles Tarot Card Meaning: Reversed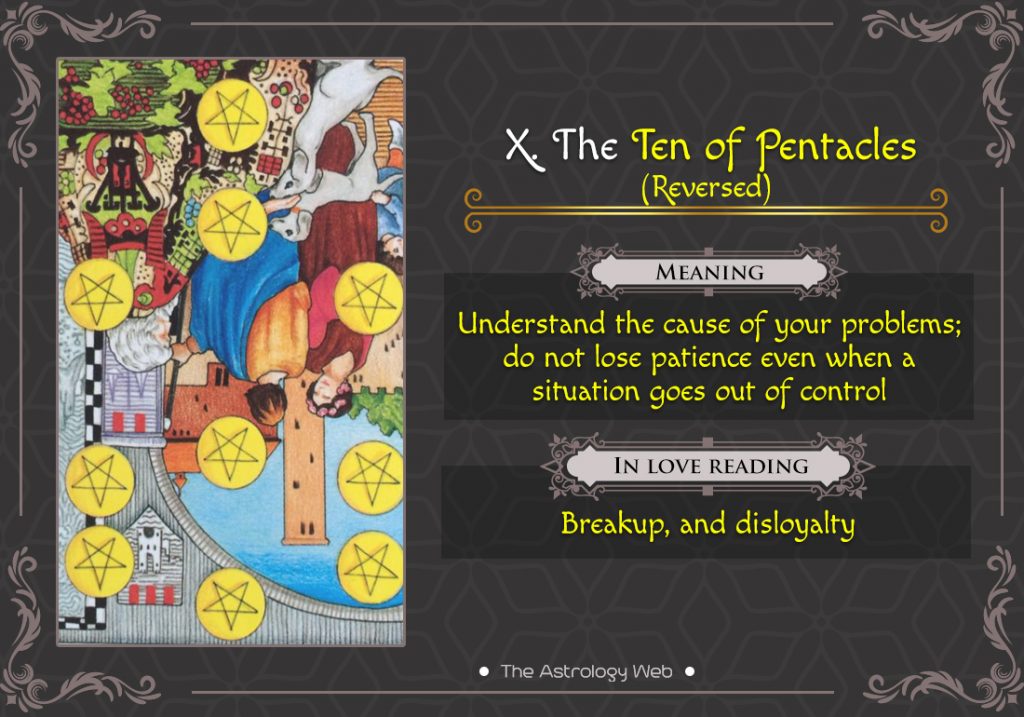 Keywords: Depression, loss of fortune, loneliness, stability issues, lack of help, temporary success
Interpretation: In the upside-down position, the card indicates that the stability and security of your family, as well as other relationships, is at stakes. All of a sudden, everything you see around has crumbled down, bringing misfortune and unhappiness.
Try to find out the reason for this downfall and then correct the mistakes made. Whatever problems have befallen on you should be dealt with immense patience and confidence.
In Love and Relationship Reading
Keywords: End of a relationship, infidelity, loss of trust
Interpretation: You can no longer trust your partner as there are adjustment and loyalty issues. You may even take an extreme step like breaking the relationship without giving a second chance.
Ten of Pentacles Tarot Reversed Reading in Other Situations
Career and Work: In a career reading, the reversed 10 of Pentacles does not indicate positive news. You will most likely face insecurity and instability in your workplace. Your coworkers will suddenly turn hostile and stop cooperating with you.
Finance and Business: There would be an unexpected financial loss, causing anxiety. Due to wrong investments and excess loans, you may be loaded with debts. Seek a professional advise and sort out the matters as soon as possible.
Health: It will be hard to accept, but your hale and hearty condition may suddenly take a bad turn, causing health problems.
The Ten of Pentacles in Different Positions in a Tarot Spread
Past: When the card appears in the past position, it clearly points at your earlier phase of life that was devoid of any financial worries due to a strong foundation built by your family. Since you have received a lot, you feel blessed to lead a stress-free life.
Present: In the current time, your life seems to go smooth and fine. However, if you are dealing with some difficulty, treat it as a learning experience for your betterment. Brush up your skills and use them to do something productive.
Future: There would be up and downs in the future, but you will fight them off and come out successful. Nevertheless, you can expect a positive outcome.
Connect with The Astrology Web
Get the latest Updates and tips delivered right to your inbox.
Get started