The Three of Wands Tarot (3 of Wands Tarot)
What is the Three of Wands Tarot
The Three of Wands is a card that belongs to the first suit (Wands) of the fifty-six cards called Minor Arcana in a traditional seventy-eight tarot card deck. Used for playing and divination, its suit element is fire.
How is the Three of Wands Depicted in the Tarot Card
Below a golden sky, a man standing on the peak of a cliff with his back turned. His ensemble comprises of a bright-colored robe and a headband tied around his brown hair. He is looking at the sea in front of him with mountains on the fringe. Over the sea, many ships are floating.
While the two wooden sticks stand on either side of the man, the third one is held in his left hand.
Meaning of the Three of Wands Tarot
The 3 of Wands symbolizes the successful accomplishment of plans and the arrival of better opportunities in one's life. The man is a representation of hope, fearlessness, future goals, and advanced planning.
Both the sea and sky stand for knowledge, vastness, and intellect while the cliff signifies the courage to take the next step.
The stick in the left hand symbolizes future goals while the other two implies commitment, dedication, and hard work.
The Three of Wands Tarot As a Person (Significator)
It represents a person with a great sense of discipline, inner strength, power, and optimism. He is someone with a go-getting attitude with a touch of nobility. They are ready to put genuine efforts as long as they enjoy the fruits of their deeds.
As Feelings
You might be feeling renewed and energetic, getting ready to walk on a new path with a lot of hope in the heart.
As Action/Advise
When you are aiming for something in your life, do it whole-heartedly. Any new prospect should be dealt with a positive approach rather than feeling restricted.
The Three of Wands Tarot Card Meaning: Upright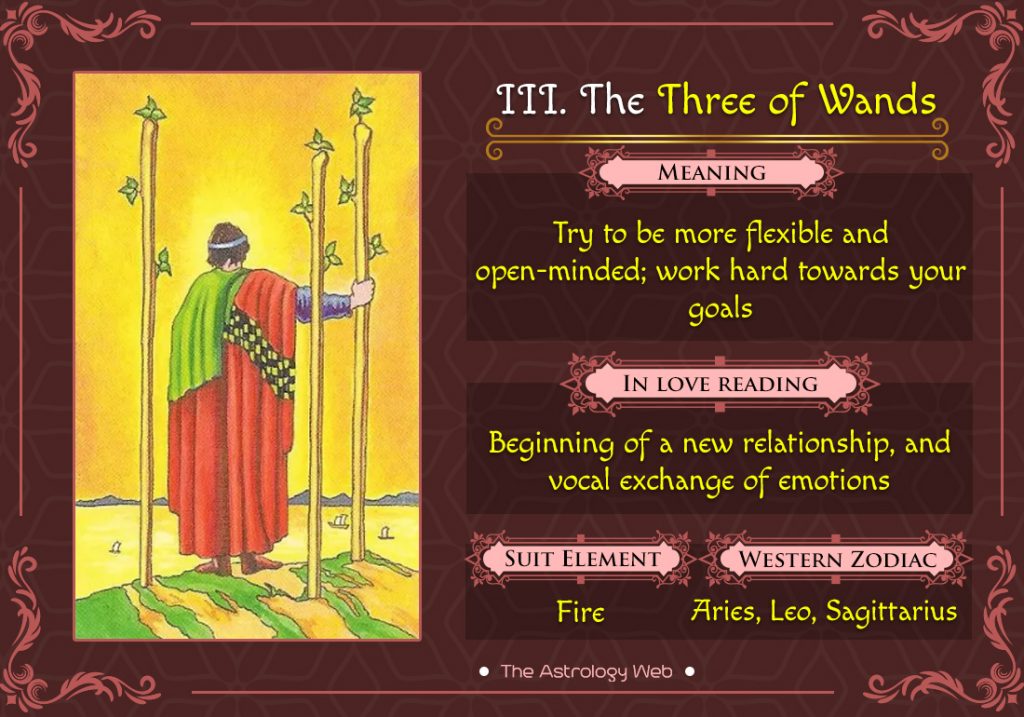 Keywords: Activity, preparation, forward-thinking, development, leadership, seeing the bigger picture
Interpretation: In this position, it could mean that your plans are gradually taking shape, encouraging you more to move into newer avenues, and thereby making speedy progress. You are more open-minded, confident, and cooperative when it's coming to grasping better opportunities.
The card advises you develop flexibility, embracing the changes happening in your life. Focus on your vision strongly and work towards it.
In Love and Relationship Reading
Keywords: New relationship, exchange of emotional feelings
Interpretation: If you are committed, there would be more scope to talk to each other. Both of you will get to find something new about each other, leading to a healthy relationship.
Those who are single could be lucky enough to find a long-term partner.
Three of Wands Tarot Reading in Other Situations
Career and Work: If your work involves traveling, you would be more comfortable going abroad or making frequent business trips to add more experiences to your career.
Finance and Business: Whatever efforts you have put into your business venture or saving schemes, they will yield results in due course. Gradually your financial status will strengthen.
Health: You will be in better shape now, motivating others to fight any health problem with strong willpower.
The Three of Wands Tarot Card Meaning: Reversed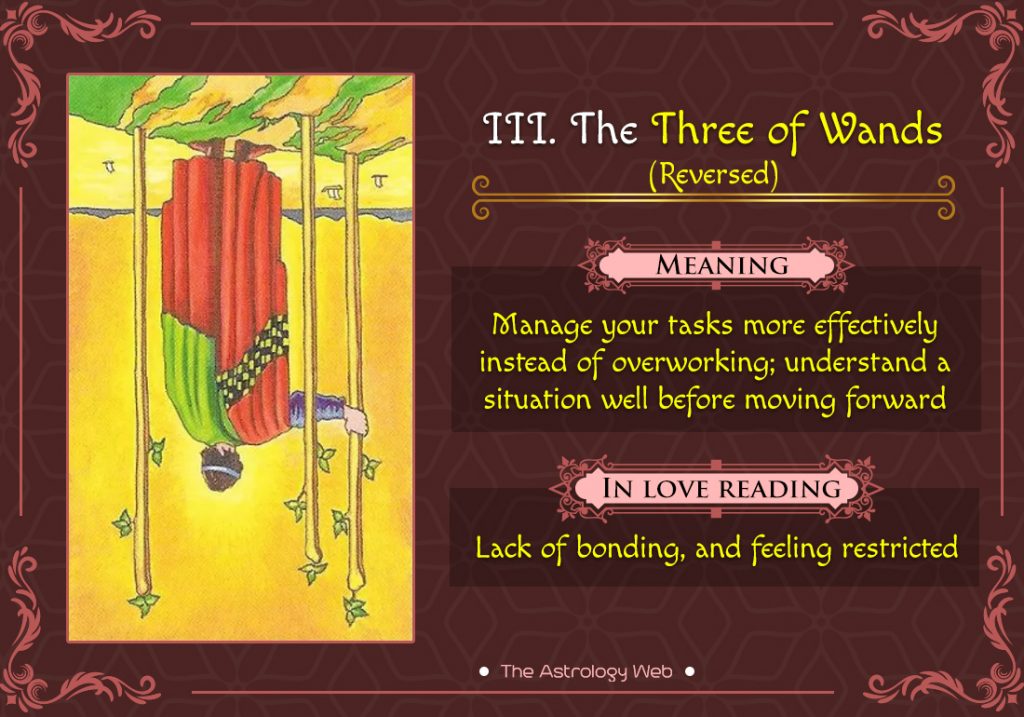 Keywords: Hurdles, delay, disappointment, vicious ambiance, lack of vigilance
Interpretation: In the upside-down position, the card indicates that you have tried to pursue your goals, but unable to accomplish them as a result of unexpected delays and obstacles. In such a situation, you are feeling extremely disappointed and frustrated, realizing that your efforts have been wasted.
The card suggests you don't overload yourself in accomplishing your goals. Conduct a proper analysis, taking all the risks into consideration. Most importantly, try to divide your tasks to manage them well instead of overworking.
In Love and Relationship Reading
Keywords: Feeling trapped, building distance in a relationship
Interpretation: You are no longer enjoying the companionship of your partner due to too many restrictions imposed on your relationship. Since you value freedom, there is a deep urge to break away.
Three of Wands Tarot Reversed Reading in Other Situations
Career and Work: The kind of opportunities you are seeking might not be knocking at your door right now. There is displeasure at work no matter how much you try. It's time to switch jobs if you want to do something satisfactory in your field.
Finance and Business: All of a sudden you might find yourself in the middle of a chaotic situation where all your finances are going haywire. It would be advisable to take a professional's help to get things moving once again.
Health: You might face some minor health issues, especially if you travel on a regular basis. Be careful about your diet and activities to minimize your chances of falling ill.
The Three of Wands in Different Positions in a Tarot Spread
Past: There must many instances in the past where you handled a situation carefully with your advanced thinking. Since you did not hurry into accomplishing all the tasks at once, everyone admired you for your maturity at such a young age.
Present: In the present position, the card suggests the beginning of a new project or venture that may have a huge impact on your life if carried out seriously. Therefore, be careful not to rush into anything without proper planning.
Future: You might be welcomed with some positive news in the days to come. You will be happy and satisfied leading the kind of life desired since long. However, don't miss any great opportunities coming your way.
Connect with The Astrology Web
Get the latest Updates and tips delivered right to your inbox.
Get started