The Two of Cups Tarot (2 of Cups)
What is the Two of Cups Tarot
The Two of Cups is a card that belongs to the third suit (Cups) of the fifty-six cards called Minor Arcana in a traditional seventy-eight tarot card deck. Used for both playing and divination, its suit element is water.
How is the Two of Cups Depicted in the Tarot Card
A man and woman are exchanging golden cups while staring at each other's eyes that seem to be part of a wedding ceremony. She is dressed in a white robe with a laurel crown while he wears a stylish attire
Above the cups is a winged lion's head with a staff intertwined by two snakes, hanging between the couple.
At the backdrop, there is a tiny house on a verdant hillock.
Meaning of Two of Cups in the Tarot Card
The 2 of Cups symbolizes the union of love that gives rise to passion, beauty, and the strength to stay together. The couple represents negotiation, protection, and care.
The cups signify formation of new associations, respect, and honor.
The snakes are a sign of trade, duality, morality, cosmic power, and coexistence of dark and light while the lion's head stands for fierceness, passion, and energy.
The Two of Cups as a Person (Significator)
It represents a sweet, adorable, friendly, and loving person with a heart of gold. Overly romantic and loyal, such people believe in long-term relationships. As they are good listeners, talking with them will make give you a positive boost.
As Feelings
You will develop romantic feelings towards someone with whom there is a telepathic connection.
As Action/Advice
Your love for someone will grow stronger with each passing day. However, overlooking the flaws of your partner to sustain the relationship can cause some issues later.
The Two of Cups Tarot Card Meaning: Upright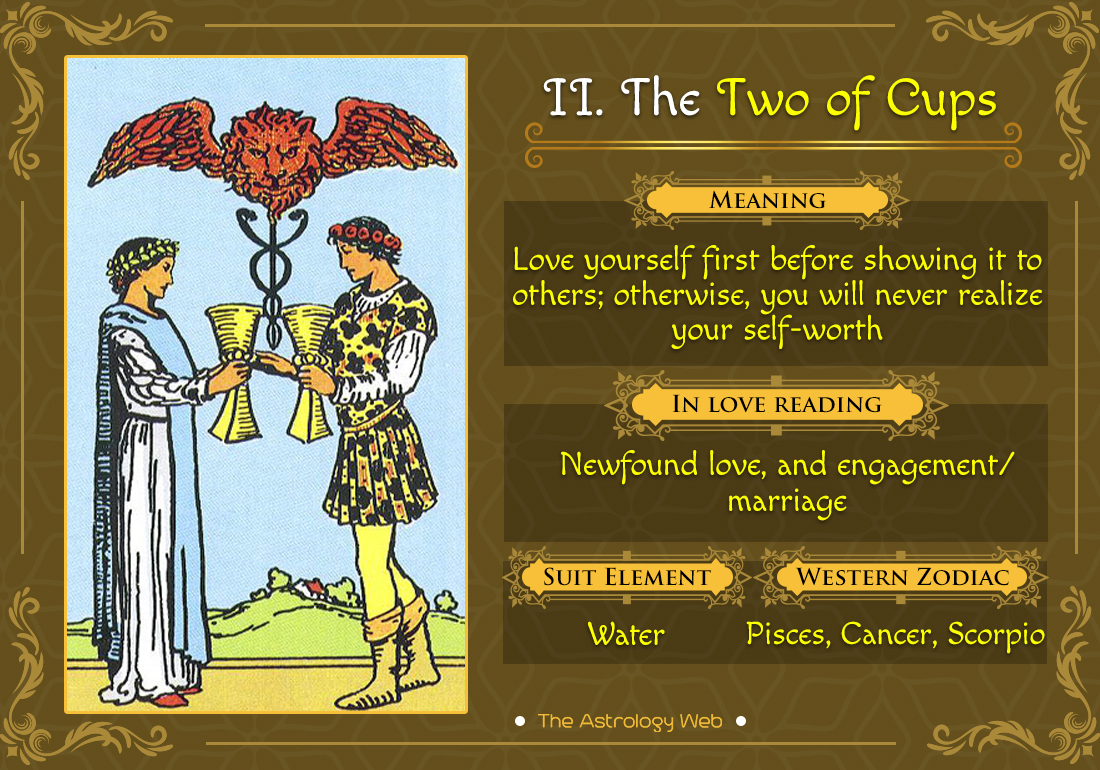 Keywords: Mutual attraction, love, cooperation, support, nurture, harmony
Interpretation: According to the reading, you are comfortable with your relationships without bringing your ego in between. As a result of these adjustments, you are able to stay happy and contented.
Be it a relationship or partnership, the card doesn't guarantee whether it will stand the test of time. Your inner spirit and positive approach will draw everyone towards you, but the feelings within must be strong.
In Love and Relationship Reading
Keywords: Budding love, solid future, togetherness
Interpretation: If you are in a relationship, you may feel like expressing your love from the top of a roof over and over again. Thoughtfulness and compassion will keep both of you bonded to one another.
If you are single, someone is going to come soon in your life, establishing a slow-moving but long-term relationship.
Two of Cups Tarot Reading in Other Situations
Career and Work: There will be peace, harmony, and unity at your workplace, giving you a chance to prove your talents. Make sure you don't get into any argument with your superiors as they expect compliance and dedication.
Finance and Business: The 2 of Cups is a good indication of a fruitful business partnership that will reap major profits and help you accomplish your goals. Since you know how to maintain a balance, your expenses would affect your savings.
Health: If you have been suffering from an illness, expect some good news as your health will come back on the track.
The Two of Cups Tarot Card Meaning: Reversed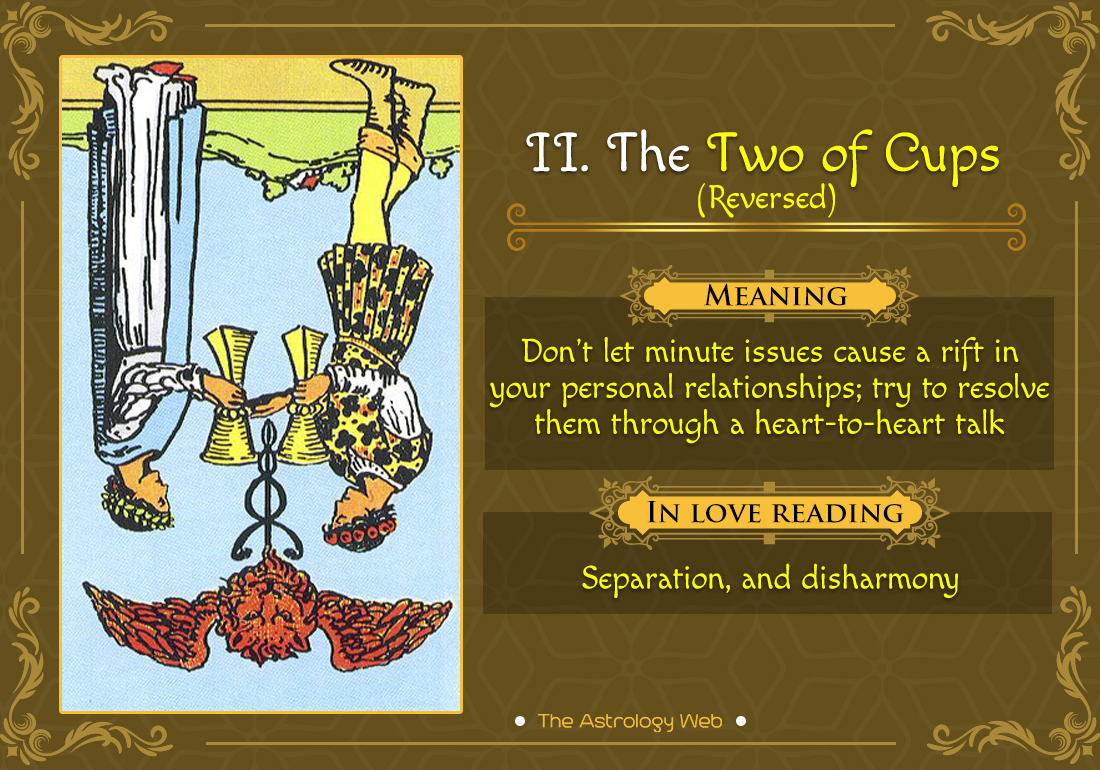 Keywords: Aimless relationships, lack of harmony and unity, fallout, emotional breakdown
Interpretation: In the upside-down position, the card indicates that you will have trouble gelling with new people. There will be lack of trust and frustration in relationships or business partnerships that would impact your general behavior towards others.
You need to understand the value of building a heartfelt connection with closed ones. Don't let petty issues become the cause of broken relations.
In Love and Relationship Reading
Keywords: Break-up, an imbalance in a relationship
Interpretation: Those who are committed may all of a sudden find it difficult to stand each other. Constant tensions will strain the bonding, leading to separation. If you want to save the relation, don't thrust your opinions on your partner.
Two of Cups Tarot Reversed Reading in Other Situations
Career and Work: You may face inequality and harassment at your workplace due to lack of cooperation with your coworkers.
Finance and Business: If you have a business partnership with someone, it will be dissolved soon as result of a misunderstanding, lack of respect, and different goals. Since the reversed card refers to imbalance, you have to keep a watch on your daily expenditures.
Health: Frequent headaches, fatigue, and anxiety are some health problems you may face due to stress and worry. Try to calm yourself by doing regular meditation and physical exercise.
The Two of Cups in Different Positions in a Tarot Spread
Past: Although an old relationship in the past was strong and perfect, it did not work out in the long run. However, the valuable lessons you have learned from it had made you understand the true meaning of relationships.
Present: It could either mean the beginning of a new bond or mending an old one to stay together with love and peace.
Future: In this position, the card suggests you be serious about your future relationships without hesitating taking them to the next level.
Connect with The Astrology Web
Get the latest Updates and tips delivered right to your inbox.
Get started