Gemini Birthstones: Colors, Healing Properties and Functions
Gemini (May 22– June 21), an air sign and the third of the twelve zodiacs has the Roman number 11 as its symbol to depict twins. Geminians are adjustable, intelligent, soft-spoken, friendly, and creative with a spontaneous thought process. On the other hand, they are emotionally rigid, inconsistent in thought and actions, and also lack ability in making big decisions.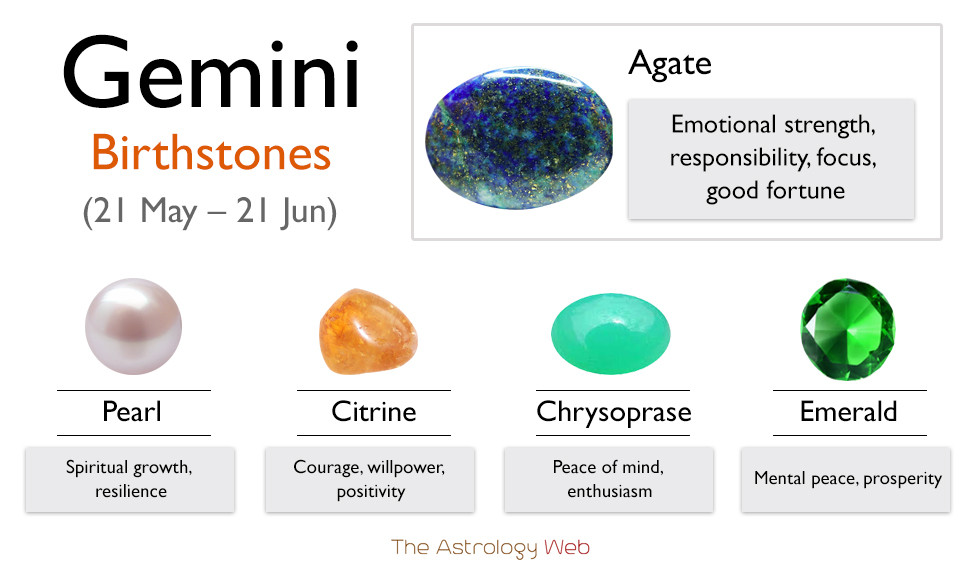 Agate, pearl, citrine, and emerald are some of the most effective birthstones suited for Gemini people to bring in spiritual healing as well as keep their inconsistent nature under control.
List of Birthstones for Gemini With Their Effects

Pearl, sapphire, citrine, and moonstone are considered lucky for men while emerald is considered ideal for Gemini women.

Name of Stone

Color

Healing Properties

1. Agate

Month: May and June

Brown, red, yellow, gray, pink, white and black

Has a calming effect
Gives emotional strength
Enhances the Geminian's eloquence
Helps the inconsistent Gemini to be focused
Brings in abundance and luck
Promotes long life
Increases attentiveness, decision-making skills and sense of responsibility that the Gemini is often deficient in.

2. Pearl

Month: June

Off-white

Helps in spiritual growth
Provides resilience
Helps with problems of the spleen, heart, stomach, and intestines
May help the wearer understand his physical state as it shines brightly in good health and get dull during illness

3. Citrine

Month: May and June

Yellow, brownish-yellow, greenish-yellow, orange

Helps to overcome fears
Instills willpower
Lessens the Geminian's self-destruction tendency
Instills positivity

4. Chrysoprase

Month: May

Bright or deep green

Brings in enthusiasm
Soothes the mind and lessens depression

5. Emerald

Month: May

Green

Instills calmness
Helps to realize true love
Enhances abundance and prosperity
Effective for women going through anxiety and mental trauma

6. Tourmaline

Month: May and June

Black, bluish-black, brown, yellow, green, pink, red, blue

Provides physical and spiritual comfort
Increases creativity, often worn by writers and artists

7. White Sapphire

Month: May and June

White

Spiritual enlightenment
Lessens depression
Boosts romance
Enhances fertility

8. Moonstone

Month: June

Mostly colorless, but found in shades of blue, green, yellow, pink, orange, brown

Helps focus on important things
Stabilizes emotions
Brings in good fortune
Beneficial for those with problems of digestion, nose bleeding, and headache
Was worn in the past to seek protection from epilepsy and sunstroke

9. Tanzanite

Month: May and June

Blue, bluish-purple

Ensures spiritual healing
Has a calming and soothing effect
Helps in self-awakening

10. Celestine

Month: May and June

Blue as well as orange, red, milky white, yellow

Uplifts energy
Lessens stress
Helps with skin and digestion problems
Overcomes addiction and obsession

11. Tiger Eye

Month: May and June

Yellowish-brown, golden brown

Reduces alcohol and tobacco addiction
Helps one to make practical decisions
Lessens excessive food cravings
Helps with ulcer, stomach, and gall bladder problems
Good for those with eye ailments

12. Serpentine

Month: May and June

Green, brownish-green, yellowish-green

Increases wisdom
Makes way for good opportunities
Stimulates feelings of sexuality
Other Gemstones for Gemini
Jade (Replaces feelings of negativity with peace)
Thulite (Boosts fertility, increases creativity and eloquence in speech)
Variscite (Gives inner peace, removes negative feelings)
Ulexite (Provides emotional healing)
Birthstones for the Gemini zodiac, when worn in an appropriate manner, would help to improve their positive traits and eliminate the negative ones. The consultation of a proper astrologer would help you in choosing the stone that suits your personality the best, helping you to outshine better.
Connect with The Astrology Web
Get the latest Updates and tips delivered right to your inbox.
Get started