Year Of The Dragon: Chinese Zodiac Personality, Compatibility, and Elements
What is the Year of the Dragon
In the 12-year cycle of Chinese zodiac signs, the dragon is the fifth one, a symbol of strength, majesty, and nobility. The Year of the Dragon comes once every twelve years. The Year of the Black Dragon is special as it comes every 60 years, bringing immense power and luck. The period of 7:00 AM to 9:00 AM is the hour of the Dragon.
When are the Years of the Dragon with Dates
Start Date
End Date
Heavenly Branch
22 January 1928
9 February 1929
Year of Earth Dragon
8 February 1940
26 January 1941
Year of Metal Dragon
27 January 1952
13 February 1953
Year of Water Dragon
13 February 1964
1 February 1965
Year of Wood Dragon
31 January 1976
17 February 1977
Year of Fire Dragon
17 February 1988
5 February 1989
Year of Earth Dragon
5 February 2000
23 January 2001
Year of Metal Dragon
23 January 2012
9 February 2013
Year of Water Dragon
Upcoming Years of the Dragon
10 February 2024
28 January 2025
Year of Wood Dragon
28 January 2036
14 February 2037
Year of Fire Dragon
General Characteristics and Personality of Dragon Chinese Zodiac
In Chinese culture, the Dragon is considered to be the most powerful zodiac. People born in the Year of the dragon are bestowed with luck, success, and wealth. They are suitable for jobs like doctor, artist, writer, and athlete.
Positive Traits: Ambitious, big-hearted, decisive, sensible
Negative Traits: Intolerant, aggressive, tactless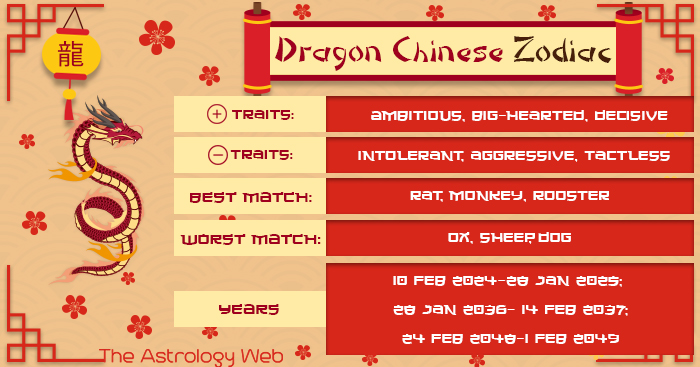 Traits of Chinese Zodiac Dragon Depending on Elements
1. Wood Dragon
Wood dragons are great performers, inventors, and decision-makers. They are good-natured, loved and respected by all.
They know how to put their ideas into practice and get successful results.
Frank and fearless, they do not hesitate to speak the truth, irrespective of the consequences.
2. Fire Dragon
Those born in the Year of the Fire Dragon are cheerful and gentle. They deal with everyone in a fair manner and avoid criticism.
Their charisma is so great that anyone can get enamored with their talks. Always taking the upper hand in any situation, fire dragons may be often mistaken for being arrogant.
3. Earth Dragon
Curious and meticulous, they are interested to learn and acquire knowledge.
As earth dragons value their self-esteem, they love seeking attention.
One of their weaknesses is their domineering attitude that often puts them in unwanted situations.
4. Metal Dragon
People born in the Year of the Metal Dragon are more than happy to do things themselves without depending on others.
They are strong-minded and determined to do well in every task assigned to them.
Gullible and innocent, they easily believe others without thinking twice.
5. Water Dragon
They encourage growth and development at the cost of their hard work and genuine efforts.
Sprightly and loyal, water dragons can turn a problem into an opportunity.
Astrology Elements and Lucky Symbols
Yin Yang: Yin
The Five Elements: Earth
Birthstone/Gemstone: Amethyst
Season: Spring
Lucky Numbers: 1, 6, 7
Lucky Colors: Silver, Golden, Yellow, Hoary
Lucky Charms (Idols): Green Tara, Brass Wu Lou
Relationship and Love Compatibility of Dragon with other Chinese Zodiac Signs
Best Match: Rat, Monkey, Rooster
Worst Match: Ox, Sheep, Dog
| | | |
| --- | --- | --- |
| Rat | Rat man + Dragon woman – Contentment is the key to keep them happy and interested in each other | Rat woman + Dragon man – If the rat woman is comfortable with the social popularity of the dragon man, their relationship will remain stable |
| Ox | Ox man + Dragon woman – Cannot be ideal love mates due to clash of egos | Ox woman + Dragon man – The magnetic charm of the dragon man may attract the ox woman but their love would fizzle out soon |
| Tiger | Tiger man + Dragon woman – Romance and fights between them will be there in equal measures | Tiger woman + Dragon man – The tiger woman's over-possessiveness over her dragon man may affect the relationship |
| Rabbit | Rabbit man + Dragon woman – A match between the introvert rabbit man and extrovert dragon woman does not promise a bright future | Rabbit woman + Dragon man – The dragon man may often feel exhausted attending to each and every emotional need of the rabbit woman |
| Dragon | Dragon man + Dragon woman – A supercharged couple brimming with enthusiasm | – |
| Snake | Snake man + Dragon Woman –  The power-mongering dragon woman could make the snake man a bit insecure | Snake woman + Dragon man – Constant appreciation will keep them happy |
| Horse | Horse man + Dragon woman – A good chemistry between the two | Horse woman + Dragon man – The relationship can work if both put equal efforts |
| Sheep | Sheep man + Dragon woman – Lack of mutual understanding can sour their relationship | Sheep woman + Dragon man – Differences in their temperaments might not be healthy for their relationship |
| Monkey | Monkey man + Dragon woman – A monkey man can easily win a dragon woman's heart | Monkey woman + Dragon man – A fast lifestyle comprising of fun, work, and socialization will keep them busy with each other |
| Rooster | Rooster man + Dragon woman –  A successful partnership despite some opposite personality traits | Rooster woman + Dragon Man – The positive attitude of the rooster woman will motivate the dragon man in his professional life |
| Dog | Dog man + Dragon woman – The dragon woman might find it difficult to cope with the dog man's frequent mood swings | Dog woman + Dragon man – The demand for security and attention of the dog woman might not be fulfilled by the dragon man |
| Pig/Boar | Pig man + Dragon woman – As long as the pig man supports the endeavors of the female dragon, she will stick to him | Pig woman+ Dragon man – The dragon man will leave no stone unturned splurging on his pig woman to keep her happy |
Year of the Dragon Western Equivalent
The western counterpart of the Dragon is Aries.
Western Signs Born in the Year of the Dragon
Aries: Arians born in the Year of the Dragon are stubborn with a strong streak of independence. They are suitable for taking up a managerial role.
Taurus: The pleasant personality of Taurus Dragons allows them to blend well in any environment. They try their level best to establish and nurture personal relationships.
Gemini: Gemini Dragons appear reckless and casual from the outside, but they are extremely intelligent. Calculative as well, they make proper plans before proceeding to implement them.
Cancer: The combination of Cancer and Dragon creates impulsive individuals. Versatile and sharp, they love putting their skills to use rather than boasting about them.
Leo: The impact of Dragon on Leos makes them more powerful and fiery. They find it hard to sit idle at home due to their high energy level.
Virgo: Virgos born in the Year of the Dragon are imaginative and flexible. Due to their perseverance and zeal, they can acquire higher positions in their professional sphere.
Libra: Stylish and lovable, Libra Dragons don't go about boasting about themselves. However, they tend to be a bit extravagant with money, splurging on luxurious items.
Scorpio: Filled with optimism and energy, Scorpio Dragons can work hard to reach their goals. They take up responsibilities in their stride and finish what they have started.
Sagittarius: Sagittarius Dragons are selfless and kind who often sacrifice their own needs to help others. They are more into outdoor activities like playing, traveling, and socializing.
Capricorn: Under the influence of the Dragon, Capricorns become more assertive and hardy. They are a powerhouse of talent who can face any adversity and achieve victory.
Aquarius: Aquarians born in the Year of the Dragon always think outside the box, putting their creative imagination to best use. No matter how successful these intellectual individuals become, they stay grounded and modest.
Pisces: Pisces Dragons have an active mind that is full of new concepts and inventive ideas. They find it easier to focus when left to oneself.
Connect with The Astrology Web
Get the latest Updates and tips delivered right to your inbox.
Get started