Year of the Rabbit: Chinese Zodiac Personality, Compatibility, And Elements
What is the Year of the Rabbit
The Rabbit is the fourth symbol in the 12-year old cycle of the Chinese zodiac sign. The Year of the Rabbit is a recurring position in this cycle. The period of 5:00 AM to 7:00 AM is the hour of the Rabbit.
When are the Years of the Rabbit with Dates
Start Date
End Date
Heavenly Branch
2 February 1927
22 January 1928
Year of Fire Rabbit
19 February 1939
7 February 1940
Year of Earth Rabbit
6 February 1951
26 January 1952
Year of Metal Rabbit
25 January 1963
12 February 1964
Year of Water Rabbit
11 February 1975
30 January 1976
Year of Wood Rabbit
29 January 1987
16 February 1988
Year of Fire Rabbit
16 February 1999
4 February 2000
Year of Earth Rabbit
3 February 2011
22 January 2012
Year of Metal Rabbit
                          Upcoming Years of the Rabbit
22 January 2023
9 February 2024
Year of Water Rabbit
8 February 2035
27 January 2036
Year of Wood Rabbit
General Characteristics and Personality of Rabbit Chinese Zodiac
Those who are born in the Year of the Rabbit are tender and warm with a heart of gold. As Rabbits are peace-lovers, they do not like getting into silly arguments.
Positive Traits: Modest, friendly, sober, merciful
Negative Traits: Stubborn, reluctant, conservative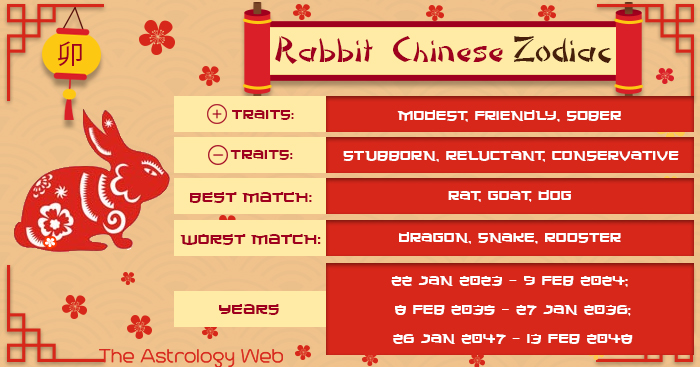 Traits of Chinese Zodiac Rabbit Depending on Elements
1. Wood Rabbit
The generosity of Wood Rabbits makes their character more lovable. They not only sympathize with others but also motivate them to go ahead in life.
On account of their non-judgmental nature, everyone seeks their advice or help.
2. Fire Rabbit
Disciplined and determined, Fire Rabbits can reach greater heights in life provided they are encouraged.
They are extremely loyal and obedient, and always ready to stand for their friends.
3. Earth Rabbit
Individuals having Earth Rabbit as their zodiac are a combination of beauty and intelligence. They can quickly give solutions and also outsmart their rivals.
Their mingling quality helps to maintain harmony in both personal and professional spheres.
4. Metal Rabbit
Mild-mannered and cautious, Metal Rabbits may sometimes appear to be a bit complicated. Nevertheless, they have an earthy personality, sensitive to other people's feelings.
5. Water Rabbit
People born in the Year of the Water Rabbit can endure a lot without getting into a confrontation. This ability helps them to adjust to different kinds of environment.
Although ambitious, they do not desire for a high standard of living.
Relationship and Love Compatibility of Rabbit with other Chinese Zodiac Signs
Best Match: Rat, Goat, Dog
Worst Match: Dragon, Snake, Rooster
| | | |
| --- | --- | --- |
| Rat | Rat man + Rabbit woman – The rat man will feel relaxed and worry-free in the presence of the rabbit woman | Rat woman + Rabbit man – The relationship should have a strong foundation to make it work |
| Ox | Ox man + Rabbit woman – Boredom may arise early in their relationship | Ox woman + Rabbit man – The ox woman should not criticize the intelligence of the rabbit man if she wants to stay with him |
| Tiger | Tiger man + Rabbit woman – The dominating nature of the tiger man, can lead to frequent arguments with the rabbit woman | Tiger woman + Rabbit man – Compatibility issues may crop up when both begin showing their true colors |
| Rabbit | Rabbit man + Rabbit woman – A promising future could be expected by both | – |
| Dragon | Dragon man + Rabbit woman – The match is less likely to be pleasant due to their different temperaments | Dragon woman + Rabbit man – The strong-willed dragon woman may find the rabbit man a bit chauvinist |
| Snake | Snake man + Rabbit woman – A feeling of insecurity may mess up the relationship | Snake woman + Rabbit man – The snake woman would add a smidgen of romance to cheer up the rabbit man |
| Horse | Horse man + Rabbit woman – The horse man could find it hard to suppress his energy in the presence of the rabbit woman | Horse woman + Rabbit man – The union of two divergent personalities may survive the test of time if both the partners adjust well |
| Goat | Goat man + Rabbit woman – A charming couple with a willingness to help and support each other | Goat Woman + Rabbit Man – If both avoid getting moody now and then, the bonding would grow strong |
| Monkey | Monkey man + Rabbit woman –  The trouble-making nature of the monkey man's tendency would create hatred in the rabbit woman | Monkey woman + Rabbit man – If both of them correct their flaws, a strong romantic alliance could be built |
| Rooster | Rooster man + Rabbit woman – Neither of them would be able to understand each other's commitments and lifestyle habits | Rooster woman + Rabbit man – The match would be a challenging one and better be avoided |
| Dog | Dog man + Rabbit woman –  A natural partnership would develop as soon as both meet each other | Dog woman + Rabbit man – Long-term happiness is in store for them |
| Pig | Pig man + Rabbit woman – This is an association that shares many common interests | Pig woman+ Rabbit man – A happy-go-lucky couple who will enjoy going out together |
Astrology Elements and Lucky Signs
Yin Yang: Yin
The Five Elements: Wood
Birthstone: Pearl
Season: Spring
Lucky Numbers: 3, 6, 9
Lucky Colors: Pink, Blue, Black, Purple, Red
Lucky Charms: Pi Yao, Medicine Buddha Idol
Year of the Rabbit Western Equivalent
The western counterpart of the Rabbit is Pisces.
Western Signs Born in the Year of the Rabbit
Aries: Arians born in the Year of the Rabbit are high-spirited and compassionate. They are extremely chivalrous to everyone around.
Taurus: A combination of Taurus and Rabbit makes steady and composed personalities. However, they can often be stubborn, trying to prove themselves correct.
Gemini: Gemini Rabbits do not have any problem getting along with others. Although talkative, they can be good listeners.
Cancer: Cancer Rabbits have the gift of wisdom and patience. Their demand for tranquility amplifies under the impact of the Rabbit.
Leo: Leo Rabbits have a captivating personality, but stay meek and humble. They achieve what they want without putting too much effort.
Virgo: The influence of Rabbit on Virgos prevents them from indulging in gossips. A bit shy, they maintain a low profile.
Libra: Libran Rabbits are too prudent and emotional. They have an excellent memory, remembering every detail of any event.
Scorpio: Graceful and organized, Scorpion Rabbits have a modern outlook towards life. Anything new and unique catches their eye.
Sagittarius: Lively and inquisitive, Sagittarian Rabbits could often be laid-back in their approach. Under the impact of the Rabbit, they crave for a well-balanced life.
Capricorn: As long as Capricorn Rabbits are self-sufficient and content with their work, they maintain a calm composure. They are also finicky about cleanliness.
Aquarius: Aquarian Rabbits are wise individuals who show no trace of tension during turbulent times. They like the companionship of people with a unique sense of humor.
Pisces: Piscean Rabbits have a happy persona, rarely suffering from stress. They seek a reliable partner to whom they can confide everything.
Connect with The Astrology Web
Get the latest Updates and tips delivered right to your inbox.
Get started