Year of the Rooster: Chinese Zodiac Personality, Compatibility, and Elements
What does the Year of the Rooster Mean
The Rooster is the tenth sign in the 12-year cycle of the Chinese zodiacs, symbolizing loyalty, punctuality, and flamboyance. The Year of the Rooster comes once every twelve years. The period of 5:00 PM to 7:00 PM is the hour of the Rooster.
What are the Years of the Rooster with Dates
Start Date
End Date
Heavenly Branch
26 January, 1933
13 February, 1934
Year of Water Rooster
13 February 1945
1 February 1946
Year of Wood Rooster
31 January 1957
17 February 1958
Year of Fire Rooster
17 February 1969
5 February 1970
Year of Earth Rooster
5 February 1981
24 January 1982
Year of Metal Rooster
23 January 1993
9 February 1994
Year of Water Rooster
9 February 2005
28 January 2006
Year of Wood Rooster
28 January 2017
15 February 2018
Year of Fire Rooster
                          Upcoming Years of the Rooster
13 February 2029
2 February 2030
Year of Earth Rooster
1 February 2041
21 January 2042
Year of Metal Rooster
General Characteristics and Personality of Rooster Chinese Zodiac
According to Chinese Traditions, people born in the Year of the Rooster maintain a neat and organized lifestyle as they value discipline.
Positive Traits: Benevolent, independent, humorous, courageous, and honest
Negative Traits: Impatient, overconfident, and vulnerable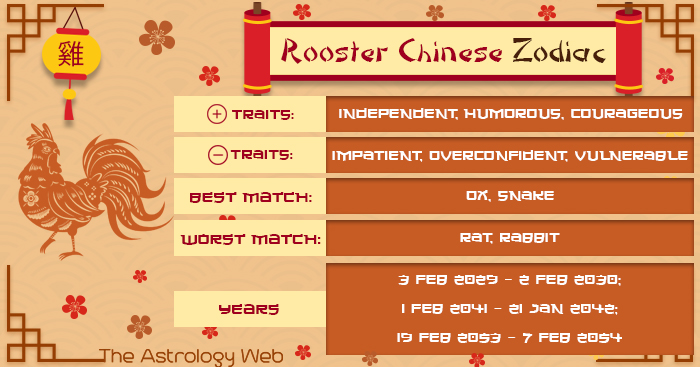 Traits of Chinese Zodiac Rooster Depending on Elements
1. Wood Rooster
Cool-headed and easy-going, wood roosters do not take unnecessary tensions.
Their charming personality makes them win hearts easily. Ambitious as well, they are never satisfied with their achievements and thrive for more.
Wood roosters need to take good care of their health through a good diet and exercise. This also keeps them happy.
2. Fire Rooster
Those who are born in the Year of Fire Rooster have a shy demeanor, inducing them to maintain a low profile without being boastful about their achievements.
Independent and self-confident, they accomplish any task efficiently without taking any help from others. Fire roosters can reach high and powerful positions if working in the right field.
3. Earth Rooster
Energetic and dynamic, earth roosters love exploring places and people to understand the meaning of life. They can handle any unpleasant situation calmly, with ease.
An earth rooster always motivates others to reach their goals, and also take the right decisions.
4. Metal Rooster
Those born in the Year of Metal Rooster have an optimistic approach towards life. Whatever success they get is only for their endurance and strong willpower.
Practical and thoughtful, they are always the first to make sacrifices in relationships.
Gold roosters have an innate ability to distinguish between right and wrong.
5. Water Rooster
Water roosters are talkative, intelligent, and flamboyant. They make excellent speakers and voice their opinions strongly whenever the need arises.
If they grab the right opportunities, nothing can stop them from making good money.
Astrology Elements and Lucky Symbols
Yin Yang: Yin
The Five Elements: Metal
Birthstone: Ruby
Season: Autumn
Lucky Numbers: 5, 7, 8
Lucky Colors: Yellow, Brown, Gold
Lucky Directions: South, Southeast
Lucky Charms (Idols): Money Frog, Medicine Buddha
Relationship and Love Compatibility of Rooster with other Chinese Zodiac Signs
Best Match: Ox, Snake
Worst Match: Rat, Rabbit
| | | |
| --- | --- | --- |
| Rat | Rat man + Rooster woman – The conservative mentality of a rooster woman may not be liked by the smart and outgoing rat man | Rat woman + Rooster man – Frequent clashes are common between the two due to their different personalities |
| Ox | Ox man + Rooster woman – Little compromises from each other's end will keep the relationship stable | Ox woman + Rooster man – The rhetoric skills of a rooster man will make an ox woman fall for him |
| Tiger | Tiger man + Rooster woman – The blunt nature of a rooster woman can often offend the rebellious tiger man | Tiger woman + Rooster man – Do not make ideal romantic partners |
| Rabbit | Rabbit man + Rooster woman – Commitment-phobic rabbit man is not a good choice for a rooster woman | Rabbit woman + Rooster man – Ill feelings between the two can eventually lead to some enmity in future |
| Dragon | Dragon man + Rooster woman – Possibility of a romantic alliance between the two | Dragon woman + Rooster man – A rooster man's organizational skills works as an advantage for a dragon woman |
| Snake | Snake man + Rooster Woman – A fulfilled relationship where both will be content with each other | Snake woman + Rooster man – A rooster man may feel himself lucky as a snake woman is good with money |
| Horse | Horse man + Rooster woman – A short-term relationship with no hard feelings | Horse woman + Rooster man – Each of them have to listen and understand each other to build a strong relationship |
| Sheep | Sheep man + Rooster woman – May have adjustment issues due to their different outlooks | Sheep woman + Rooster man – When they are really in love, they can make the necessary adjustments to make it work |
| Monkey | Monkey man + Rooster woman – The lying tendency of a monkey man may create differences with a rooster woman | Monkey woman + Rooster man – Frequent power struggles could be unpleasant for their relationship |
| Rooster | Rooster man + Rooster woman – They make a good love match |                                  – |
| Dog | Dog man + Rooster woman – A match not exactly made in heaven as there could be some compatibility issues | Dog woman+ Rooster man – Conflicts will happen now and then |
| Pig | Pig man + Rooster woman – The socializing nature of a pig man would be appreciated by the perfectionist rooster woman | Pig Woman+ Rooster man – Communications are likely to be smooth between the two |
Year of the Rooster Western Equivalent
The western counterpart of the Rooster is Virgo.
Western Signs Born in the Year of the Rooster
Aries: Aries Roosters are outspoken and rigid in nature. Their unconventional way of thinking is admired and respected by all.
Taurus: The intelligence of the Rooster would add boundless energy to the otherwise laidback Taurus.
Gemini: The presence of the Rooster will have a positive effect on a Gemini. Confident in their mannerisms, they become more sensible and responsible.
Cancer: Cancer Roosters are highly confident and social. Due to their docile nature, they are an ideal choice as life partners.
Leo: Leo Roosters are great savers, keeping account of every penny. However, they are generous as well, helping others in dire need.
Virgo: Virgos born in the Year of the Rooster are vibrant and graceful. Any task undertaken by them is done with complete dedication.
Libra: As Librans enjoy doing skillful work, the presence of the Rooster will make them more creative.
Scorpio: Scorpio Roosters come across as friendly and affectionate individuals. Although their finicky nature is a bit annoying, they work efficiently without committing any flaw.
Sagittarius: Sagittarians born in the Year of the Rooster are optimistic and love seeking attention.
Capricorn: Capricorn Roosters are ambitious, strong, and emotionally detached.
Aquarius: As Aquarians are often lost in their world, the presence of the Rooster can improve their socializing skills.
Pisces: Pisceans born during the cycle of the Rooster show extreme happiness and enthusiasm.
Connect with The Astrology Web
Get the latest Updates and tips delivered right to your inbox.
Get started