Year Of The Goat (Sheep): Chinese Zodiac Personality, Compatibility, And Elements
What is the Year of the Goat
The gentle and calm Goat is the eighth sign in the 12-year cycle of the Chinese zodiac. The Year of the Goat or Sheep occurs every once in this cycle. The period of 1:00 PM to 3:00 PM is the hour of the Goat.
When are the Years of the Goat with Dates
Start Date
End Date
Heavenly Branch
17 February 1931
5 February 1932
Year of Metal Goat
5 February 1943
24 January 1944
Year of Water Goat
24 January 1955
11 February 1956
Year of Wood Goat
9 February 1967
29 January 1968
Year of Fire Goat
28 January 1979
15 February 1980
Year of Earth Goat
15 February 1991
3 February 1992
Year of Metal Goat
1 February 2003
21 January 2004
Year of Water Goat
19 February 2015
7 February 2016
Year of Wood Goat
                          Upcoming Years of the Goat
6 February 2027
25 January 2028
Year of Fire Goat
24 January 2039
11 February 2040
Year of Earth Goat
General Characteristics and Personality of Goat (Sheep) Chinese Zodiac
Those who are born in the Year of the Goat are shy and good-natured. They prefer hanging out in groups without being the center of attraction.
Positive Traits: Cooperative, hardworking, persistent, frugal
Negative Traits: Timid, indecisive, moody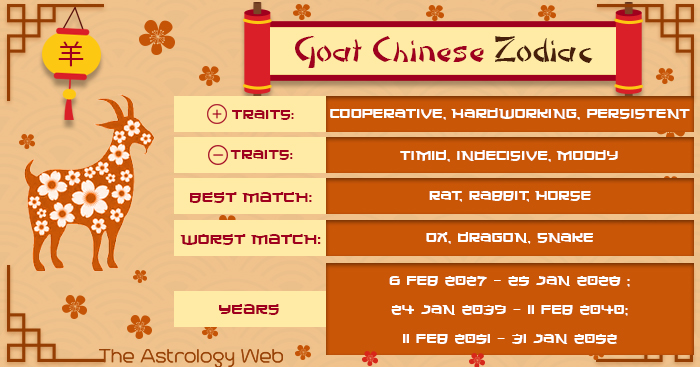 Traits of Chinese Zodiac Goat Based on Elements
1. Wood Goat
Thoughtful and unbiased, Wood Sheep behave courteously with everyone. Always ready to shoulder responsibilities, they are willing to help their family and friends.
They remain stable and steady under emotional circumstances without breaking down.
2. Fire Goat
Those who have Fire Goat as their birth year are individuals with immense self-confidence. However, they can all of a sudden become self-centric.
They have strong intuitions, and sometimes their thinking can override logic and common sense.
3. Earth Goat
Honest and blunt, they can get defensive about their close ones if anything wrong is witnessed.
Earth Goats have a habit of thrusting their opinions on others, but often do not take feedbacks in a positive stride.
4. Metal Goat
Metal Sheep radiate charm and confidence. Their fun-loving nature can bring life to a party or make anyone laugh.
They are individuals of strong principles who will stay on their ground. Convincing them could be a great challenge.
5. Water Goat
Loyal and supportive, Water Goats show a great amount of dedication to their family as well as work.
They have a creative bent of mind with a fondness for a calm and quite living.
Astrology Elements and Lucky Signs
Yin Yang: Yang
The Five Elements: Earth
Birthstone: Emerald
Season: Summer
Lucky Numbers: 2, 3, 4, 7, 9
Lucky Colors: Red, Green, Purple
Lucky Charms:   Kwan Yin or Fuk Luk Sau Idol
Relationship and Love Compatibility of Goat with other Chinese Zodiac Signs
Best Match: Rat, Rabbit, Horse
Worst Match: Ox, Dragon, Snake
| | | |
| --- | --- | --- |
| Rat | Rat man + Goat woman – The sociable rat man and the shy goat woman can hit it off well | Rat woman + Goat man – The ram man and the rat woman would stick to each other through thick and thin |
| Ox | Ox man + Goat woman – The relationship may lack excitement | Ox woman + Goat man – Opposites may attract but only for a short duration of time |
| Tiger | Tiger man + Goat woman – The highly charged up tiger man could get offended with the laidback goat woman | Tiger woman + Goat man – Sheer efforts from both ends could strengthen the bonding |
| Rabbit | Rabbit man + Goat woman – Make perfect mates | Rabbit woman + Goat man – The rabbit woman would appreciate the artistic interests in the goat man |
| Dragon | Dragon man + Goat woman – Lack of trust could cause commitment issues | Dragon woman + Goat man  – The affection of the sheep man would melt the heart of the dragon woman |
| Snake | Snake man + Goat woman – Discord in their relationship due to differences in personalities | Snake woman + Goat man – If the snake woman stops being possessive, the goat man will not complain |
| Horse | Horse man + Goat woman – The attraction between them would be extremely passionate | Horse woman + Goat man – The horse woman should slow down a bit if she wants to be with the ram man |
| Goat | Goat man + Goat woman – An amazing bonding due to their artistic sensibilities | – |
| Monkey | Monkey man + Goat woman – The self-centric monkey man can cause resentment in the goat woman | Monkey woman + Goat man – The otherwise coy sheep man will be able to mix freely with the friendly monkey woman |
| Rooster | Rooster man + Goat woman – The two partners, can complement each other in the household sphere | Rooster woman + Goat man – Hurdles may arise when their temperaments would not match |
| Dog | Dog man + Goat woman – The dog man might mistake the reserved nature of the goat man for arrogance | Dog woman + Goat man – The dating part would be fun, but a long-term alliance is doubtful |
| Pig/Boar | Pig man + Goat woman – The spunky nature of the pig man will cheer up the goat woman even during her gloomiest days | Pig woman+ Goat man – The couple will give space to each other without the need for emotional reassurance |
Year of the Goat (Ram) Western Equivalent
The western counterpart of the goat zodiac symbol is Cancer.
Western Signs Born in the Year of the Goat
Aries: When the Chinese Goat meets the Western Zodiac alternative Ram, it makes individuals with a strong personality. As they are too honest and straightforward, maintaining diplomacy could be a challenging task for them.
Taurus: Taurus Goats are calm and collected. They try to strike a balance between their personal and work life.
Gemini: The creative skills of the Sheep work in favor of Gemini, making them extremely talented and versatile. Practical and organized, they can sometimes be a bit bossy.
Cancer: Cancer Goats are amiable and kind individuals having a high level of understanding. They do what gives them contentment and happiness.
Leo: Leos born in the Chinese Year of the Ram are less aggressive and mature beyond their years. They are conscious of their feelings and act sensibly whenever the need arises.
Virgo: Virgo Goats tend to be more finicky and organized. A sense of insecurity may arise in their mind if they are not made to feel useful.
Libra: Librans with Ram as their Chinese counterpart are keen, intelligent, and alert. Since they value privacy, living in a peaceful and quiet environment is their first preference.
Scorpio: Scorpion Goats have real sentiments and feelings for their close ones. They are capable of adjusting to a new social group and making new friends.
Sagittarius: Resourceful and adaptable, Sagittarians under the impact of the Chinese Sheep develop good coping skills. They prefer a routine life, undisturbed by any circumstances.
Capricorn: Capricorn Goats are not overly emotional or sentimental, but respect everyone's feelings. When given the role of a decision-maker, they can bring revolutionary changes.
Aquarius: Aquarians born in the Year of the Goat are lovers of solitude. Choosing a caring profession will give them mental satisfaction.
Pisces: Piscean Goats like to settle at one place without moving from here to there. Their sharp memory enables them to remember every minute detail. They are not followers of stringent rules.
Connect with The Astrology Web
Get the latest Updates and tips delivered right to your inbox.
Get started