Year of the Snake: Chinese Zodiac Personality, Compatibility, And Elements
Year of the Snake Meaning
The Snake is the sixth sign in the 12-year cycle of the Chinese zodiac. The Year of the Snake repeats once in this cycle. The period of 9:00 AM to 11:00 AM is the hour of the Snake.
When are the Years of the Snake with Dates
Start Date
End Date
Heavenly Branch
10 February 1929
29 January 1930
Year of Earth Snake
27 January 1941
14 February 1942
Year of Metal Snake
14 February 1953
2 February 1954
Year of Water Snake
2 February 1965
20 January 1966
Year of Wood Snake
18 February 1977
6 February 1978
Year of  Fire Snake
6 February 1989
26 January 1990
Year of Earth Snake
24 January 2001
11 February 2002
Year of Metal Snake
10 February 2013
30 January 2014
Year of Water Snake
                          Upcoming Years of the Snake
29 January 2025
16 February 2026
Year of Wood Snake
15 February 2037
3 February 2038
Year of Fire Snake
General Characteristics and Personality of Snake Chinese Zodiac
Among the twelve Chinese zodiac signs, the Snake is the most secretive one, having an intuitive personality. Those born in the Year of the Snake lead a life according to their terms, and dislike being judged.
Positive Traits: Polite, determined, kind, humorous
Negative Traits: Shrewd, jealous, casual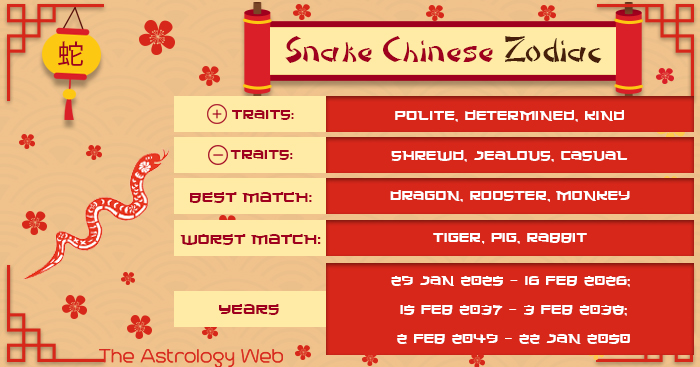 Traits of Chinese Zodiac Snake Depending on Elements
1. Wood Snake
Wood Snakes are friendly and approachable. As they are quite expressive, communicating with them is easy.
Creative and resourceful, they always have an eagerness to gain knowledge and put it into practice.
2. Fire Snake
Outgoing and adventurous, Fire Snakes have exceptional desires and ambitions to reach the top.
Their magnetic personality makes them popular in the public arena. These people are crowd pullers who can divert anyone's attention towards them.
3. Earth Snake
Down-to-earth and level-headed, Earth Snakes have a practical way of thinking. Due to their warm personality, they are extremely sensitive to other's feelings.
They are not only good in people management, but also give effective solutions to any problem.
4. Metal Snake
People who are born in the Year of the Metal Snake have a penchant for material luxuries. In fact, they are experts in handling money and looking after financial investments.
Their competitive mentality helps them reach the zenith of success and stay in power.
5. Water Snake
Active and smart, they know how to grasp an opportunity and acquire new skills. Their passion for adventure gives them the strength to face the ups and downs in life.
Water Snakes are difficult to convince as they carry out a task only after detailed understanding.
Astrology Elements and Lucky Signs
Yin Yang: Yin
The Five Elements: Fire
Birthstone: Opal
Season: Summer
Lucky Numbers: 2, 8
Lucky Colors: Red, Yellow, Black
Lucky Directions: Northeast, Southeast, South
Lucky Charms: Citrine Tree, Medicine Buddha Idol
Relationship and Love Compatibility of Snake with other Chinese Zodiac Signs
Best Match: Dragon, Rooster, Monkey
Worst Match: Tiger, Pig, Rabbit
| | | |
| --- | --- | --- |
| Rat | Rat man + Snake woman – A close friendship does not guarantee a long-term romantic relationship | Rat woman + Snake man – The chemistry between the two could work if both fulfill each other's needs |
| Ox | Ox man + Snake woman – Any one of them facing an emotional turbulence might not be dealt well by the other | Ox woman + Snake man – Lifelong alliance could be possible if both are emotionally controlled |
| Tiger | Tiger man + Snake woman – Different lifestyles and goals may create a distance between them | Tiger woman + Snake man – A break-off is inevitable as the individuals involved would not compromise |
| Rabbit | Rabbit man + Snake woman – The character of the snake woman is too strong for the feisty rabbit man | Rabbit woman + Snake man – Lack of fruitful discussions and disagreement could cause trouble in the paradise |
| Dragon | Dragon man + Snake woman – Attraction is based purely on their individual magnetic personalities | Dragon woman + Snake man  – Similar intellectual interests will keep them together |
| Snake | Snake man + Snake woman – If both stay focused on their goals, the union would be stronger | – |
| Horse | Horse man + Snake woman – The energetic horse man would be charmed by the enticing snake woman | Horse woman + Snake man – Betrayal from any one's side could destroy the relationship forever |
| Goat | Goat man + Snake woman – The dynamic goat man may get bored with the reserved snake woman | Goat Woman + Snake Man – The artistic goat woman may not bond well with the cold-natured snake man |
| Monkey | Monkey man + Snake woman – A compatible pair with few contrasting traits that could be worked out | Monkey woman + Snake man – The partners will have fun together leading an active social life |
| Rooster | Rooster man + Snake woman – The flamboyant rooster man will be head over heels with the charming snake woman | Rooster woman + Snake man – A well-secured domestic life is on the cards |
| Dog | Dog man + Snake woman –  If the dog man acts too judgmental, the snake woman might get irked | Dog woman + Snake man – The loyalty of the dog woman might make the snake man fall for her |
| Pig/Boar | Pig man + Snake woman – Sharing each other's secrets may prevent a breakup | Pig woman+ Snake man – The straightforward pig woman might not appreciate the diplomacy of the snake man |
Year of the Snake Western Equivalent
The western counterpart of the Snake is Taurus.
Western Signs Born in the Year of the Snake
Aries: In the presence of the Snake, straight-forward Arians try to think more deeply. They have the patience to listen to others.
Taurus: Taurus Snakes are attentive and careful. Although social and affable, they do not discuss personal or professional matters with everyone.
Gemini: Gemini Snakes are great thinkers with a witty side. They have the charisma to draw people towards them and win their trust. However, they are rule-breakers.
Cancer: Bestowed with the gift of communication, Cancer Snakes are expert in attracting anyone' attention. Their emotional insecurities and possessiveness make them great worriers.
Leo: The impact of the Snake on Leos is such that they become placid and thoughtful. They are caring and forgiving in nature, but their patience should not be tested.
Virgo: Virgo Snakes are work-oriented individuals, having clear goals. They don't haste to making quick decisions and do a proper analysis beforehand.
Libra: Librans under the influence of the Snake are reserved and calm. As they are self-conscious, creating a good impression always runs in their mind.
Scorpio: Deep thinkers with a tinge of slyness, Scorpion Snakes have a powerful personality. They are someone who can be consulted for any advice.
Sagittarius: Sagittarian Snakes are knowledge-seekers who impart the same to others. Enterprising and clever, they seek greater opportunities for some quick financial gains.
Capricorn: Capricorns born in the Year of the Snake are persevering and easy-to-please people. They achieve a lot in their lives but are not boastful.
Aquarius: Aquarian Snakes are solitary personalities, having a unique way of thinking. If these Aquarians promise somebody, they fulfill it at any cost.
Pisces: Wherever Piscean Snakes go, they always make a lasting impression. Graceful and well-mannered, they never behave rudely with anyone.
Connect with The Astrology Web
Get the latest Updates and tips delivered right to your inbox.
Get started