Year of the Tiger: Chinese Zodiac Personality, Compatibility, And Elements
Year of the Tiger Meaning
The Tiger is the third symbol in the 12-year old cycle of Chinese zodiac sign. The Year of the Tiger repeats every once in twelve years. The period of 3:00 AM to 5:00 AM is the hour of the Tiger.
When are the Years of the Tiger with Dates
Start Date
End Date
Heavenly Branch
13 February 1926
1 February 1927
Year of Fire Tiger
31 January 1938
18 February 1939
Year of Earth Tiger
17 February 1950
5 February 1951
Year of Metal Tiger
5 February 1962
24 January 1963
Year of Water Tiger
23 January 1974
10 February 1975
Year of Wood Tiger
9 February 1986
28 January 1987
Year of Fire Tiger
28 January 1998
15 February 1999
Year of  Earth Tiger
14 February 2010
2 February 2011
Year of Metal Tiger
                          Upcoming Years of the Tiger
1 February 2022
21 January 2023
Year of Water Tiger
19 February 2034
7 February 2035
Year of Wood Tiger
General Characteristics and Personality of Tiger Chinese Zodiac
According to the Chinese culture, those having the Tiger zodiac are brave and independent. Their personality reflects regality and magnificence.
Positive Traits: Virtuous, tolerant, trustworthy, confident
Negative Traits: Short-tempered, arrogant, rash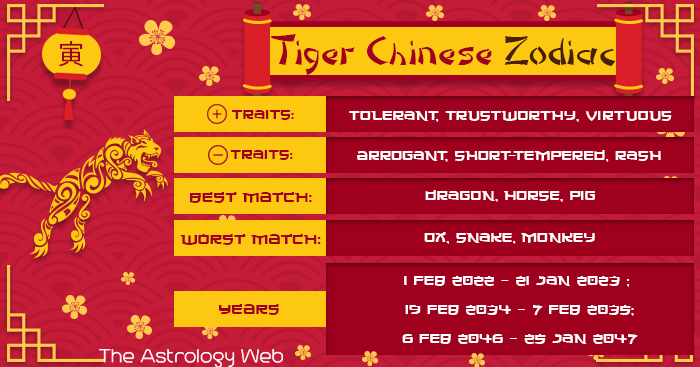 Traits of Chinese Zodiac Tiger Depending on Elements
1. Wood Tiger
People born in the Year of the Wood Tiger are goal-oriented and committed. They do not get bogged down by failures, and instead rise to start all over again.
They believe in cooperation and unity to achieve a common target.
2. Fire Tiger
Fire Tigers have an unusual, adventurous spirit that helps them in fighting challenges. At the same time, they are also passionate about their hobbies.
Born with a philanthropic heart, they are easy to trust.
3. Earth Tiger
Earth Tigers are enterprising and practical. Their initiatives and efforts give successful results in the long-run.
Their thinking is stable and logical, and therefore do not jump to conclusions soon.
4. Metal Tiger
Self-confident and friendly, they will work restlessly unless they reach their set targets. They also dare to face any hurdle with an optimistic attitude.
Metal Tigers are family people who prefer a peaceful domestic life.
5. Water Tiger
Water Tigers have a high learning capability and a taste for artistic engagements.
Their curiosity creates interest to learn new things. Also, they give greater importance to their self-esteem.
Astrology Elements and Lucky Signs
Yin Yang: Yin
The Five Elements: Wood
Birthstone: Sapphire
Season: Spring
Lucky Numbers: 1, 4, 7, 8
Lucky Colors: White, Purple, Blue, Gray, Orange
Lucky Charms (Protective Animals): Elephant, Rhinoceros
Relationship and Love Compatibility of Tiger with other Chinese Zodiac Signs
Best Match: Dragon, Horse, Pig
Worst Match: Ox, Snake, Monkey
| | | |
| --- | --- | --- |
| Rat | Rat man + Tiger woman – The rat man would be in a different wavelength with the tiger woman | Rat woman + Tiger man – An extra amount of compromise is required to make the relationship works |
| Ox | Ox man + Tiger woman – The ox man may not be able to handle the possessive nature of the tiger woman | Ox woman + Tiger man – Problems will erupt when neither of them is willing to make sacrifices |
| Tiger | Tiger man + Tiger woman – Union of two fiery signs will create magic | – |
| Rabbit | Rabbit man + Tiger woman – Long-term alliance is possible sans any interference | Rabbit woman + Tiger man – The tender rabbit woman may find the tiger man's love too intense for her |
| Dragon | Dragon man + Tiger woman – The two of them will have a gala time with each other | Dragon woman + Tiger man  – When individual interests are kept to oneself, the bonding will grow stronger |
| Snake | Snake man + Tiger woman – A rollercoaster ride for both | Snake woman + Tiger man – Trouble would start brewing soon between them |
| Horse | Horse man + Tiger woman – An easy connection builds up between them | Horse woman + Tiger man – Revelation of one another's intimate feelings will bring them closer |
| Goat | Goat man + Tiger woman – The goat man should allow the tiger woman to have her "me" time to maintain harmony | Goat Woman + Tiger Man – Lack of appreciation from both sides can create bitterness in them |
| Monkey | Monkey man + Tiger woman – Coming together of two outgoing individuals may create tension when both want to be the center of attraction | Monkey woman + Tiger man – The tiger man's ego will hurt if he finds the monkey woman cheating on him |
| Rooster | Rooster man + Tiger woman – The demand for perfection by the rooster man can irk the tiger woman | Rooster woman + Tiger man – The tiger man may envy the intelligence of the rooster woman |
| Dog | Dog man + Tiger woman – If both overlook their negative qualities, they can dwell in peace | Dog woman + Tiger man – The loyalty of the dog woman would compel the chaotic tiger man to cool down |
| Pig/Boar | Pig man + Tiger woman – The pig man would be able to control the tiger woman and make her feel special | Pig woman+ Tiger man – A long and healthy relationship could be expected |
Year of the Tiger Western Equivalent
The western counterpart of the Tiger is Aquarius.
Western Signs Born in the Year of the Tiger
Aries: Bold and energetic, Arians born in the Year of the Tiger always like to stay active without resting down. They are also cheerful, seeking true friendships.
Taurus: Taurus Tigers are loved by all due to their good sense of humor. They avoid getting into complications and play safely in most situations.
Gemini: The charisma of the Tiger makes Gemini more dynamic, added with love for communication. They believe in enjoying life before settling down.
Cancer: The main attributes of Cancer Tigers are vivaciousness and exuberance. They are known to be reserved in general, but the presence of the Tiger makes them sociable.
Leo: The effect of two feline signs creates highly charged up and charming individuals. They are very emotional, facing disappointments if they don't get the desired things.
Virgo: Virgos will develop a fun-loving temperament when born in the Year of the Tiger. They would be lucky with money as well.
Libra: Libran Tigers are thoughtful and pleasant-faced individuals. They hate monotony in any job due to their indecisive nature.
Scorpio: Scorpion Tigers know when to express their emotions. Regarding money matters, they strike a balance between spending and saving.
Sagittarius: Dreamy and playful, Sagittarians under the influence of the Tiger become focused on their goals. However, they would never demand perfection.
Capricorn: Capricorn Tigers are too honest and blunt. They are also capable of doing stressful jobs.
Aquarius: Aquarian Tigers have resilience and power to fight in life. Strong determination makes them a bit dominating in nature.
Pisces: Assertive and reliable, Piscean Tigers are problem-solvers. They love to travel and enjoy a Bohemian lifestyle.
Connect with The Astrology Web
Get the latest Updates and tips delivered right to your inbox.
Get started